Donuts or Doughnuts you can spell either way. Whatever it may be we all love this right !!! . This is my second attempt of making doughnuts at home. The first attempt was different recipe. And that was old fashioned buttermilk doughnuts. So this time I wanted to make Yeast donuts which we love so so much. This recipe is a keeper I must say, I just changed the measurement of sugar and flour from the original recipe remaining other things are same. Hope you all enjoy this visual treat and let's all go nuts for Donuts. And now your kitchen starts smelling Yummy !!!
The October 2010 Daring Bakers challenge was hosted by Lori of Butter Me Up. Lori chose to challenge DBers to make doughnuts. She used several sources for her recipes including Alton Brown, Nancy Silverton, Kate Neumann and Epicurious.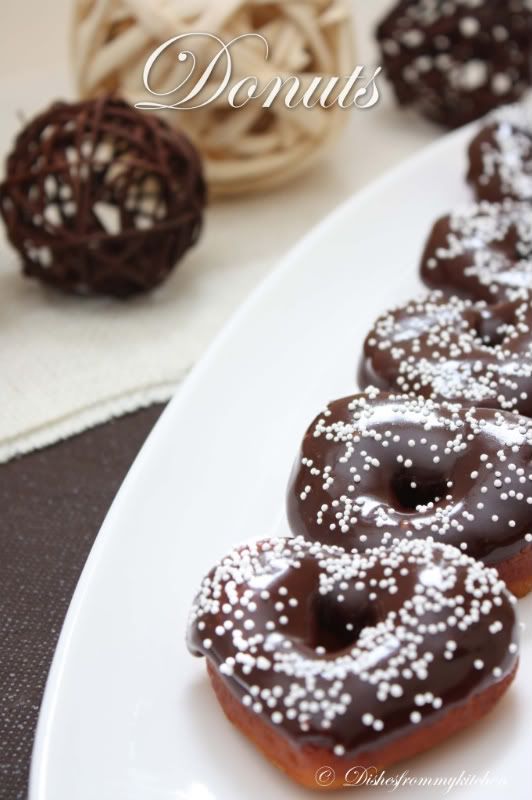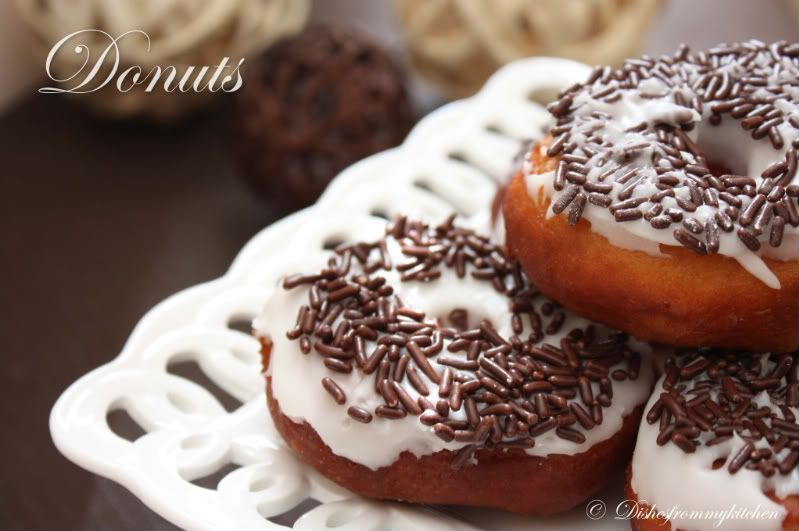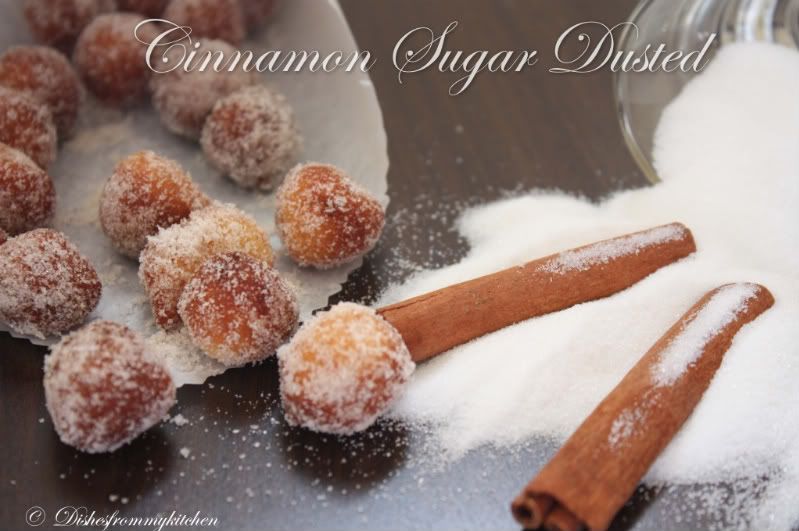 I choosed Alton Brown's Yeast doughnut recipe. Here it goes...
Hands on prep time - 25 minutes
Rising time - 1.5 hours total
Cooking time - 12 minutes
Yields: 20 to 25 doughnuts of big size and extra 10 if it is small size + Doughnut holes
This is my corrected measurement so everytime I am going to follow this.



All Purpose Flour - 4 3/4 cups ( Original was 4 2/3 cups)
Vegetable Shortening - 1/3 cup (can substitute butter, margarine)
Active Dry Yeast - 4.5 teaspoon (2 pkgs.)
White Granulated Sugar - 1/2 cup( Original was 1/4 cup)
Nutmeg - 1 tsp grated(optional I didn't use this)
Canola Oil - for Deep Frying
1. Place the milk in a medium saucepan and heat over medium heat just until warm enough to melt the shortening. (Make sure the shortening is melted so that it incorporates well into the batter.)
2. Place the shortening in a bowl and pour warmed milk over. Set aside.
3. In a small bowl, sprinkle the yeast over the warm water and let dissolve for 5 minutes. It should get foamy. After 5 minutes, pour the yeast mixture into the large bowl of a stand mixer and add the milk and shortening mixture, first making sure the milk and shortening mixture has cooled to lukewarm.
4. Add the eggs, sugar, salt, nutmeg, and half of the flour. Using the paddle attachment of your mixer (if you have one), combine the ingredients on low speed until flour is incorporated and then turn the speed up to medium and beat until well combined.
5. Add the remaining flour, combining on low speed at first, and then increase the speed to medium and beat well.
6. Change to the dough hook attachment of the mixer and beat on medium speed until the dough pulls away from the bowl and becomes smooth, approximately 3 to 4 minutes (for me this only took about two minutes). If you do not have a dough hook/stand mixer – knead until the dough is smooth and not sticky.
7. Transfer to a well-oiled bowl, cover, and let rise for 1 hour or until doubled in size.
8. On a well-floured surface, roll out dough to 3/8-inch (9 mm)thick. (Make sure the surface really is well-floured otherwise your doughnuts will stick to the counter).
9. Cut out dough using a 2 1/2-inch (65 mm) doughnut cutter or pastry ring or drinking glass and using a 7/8-inch (22 mm) ring for the center whole. Set on floured baking sheet, cover lightly with a tea towel, and let rise for 30 minutes.
10. Preheat the oil in a deep fryer or Dutch oven to 365 °F/185°C.
11. Gently place the doughnuts into the oil, 3 to 4 at a time. Cook for 1 minute per side or until golden brown (my doughnuts only took about 30 seconds on each side at this temperature).
12. Transfer to a cooling rack placed in baking pan. Allow to cool for 15 to 20 minutes prior to glazing, if desired.


Chocolate Glaze
This measurement of glaze can be used approximately for 30 small size donuts
Unsalted butter - 1/4 cup
Whole milk, warmed - 1/3 cup
Light corn syrup - 1/2 tbsp
Vanilla extract - 1 teaspoons
Bittersweet chocolate - 1/4 cup
Confectioners' sugar, sifted - 1 cup
Combine butter, milk, corn syrup, and vanilla in medium saucepan and heat over medium heat until butter is melted. Decrease the heat to low, add the chocolate, and whisk until melted. Turn off heat, add the powdered sugar, and whisk until smooth. Place the mixture over a bowl of warm water and dip the doughnuts immediately. Allow glaze to set for 30 minutes before serving.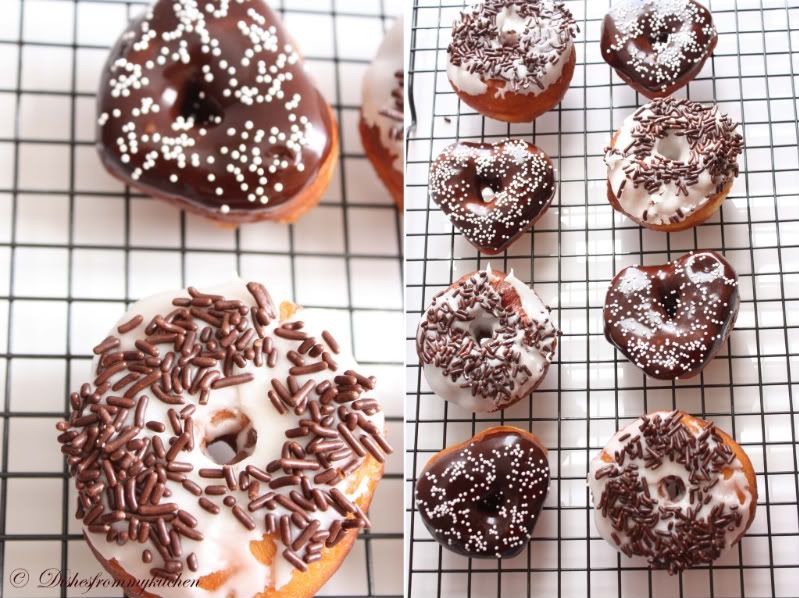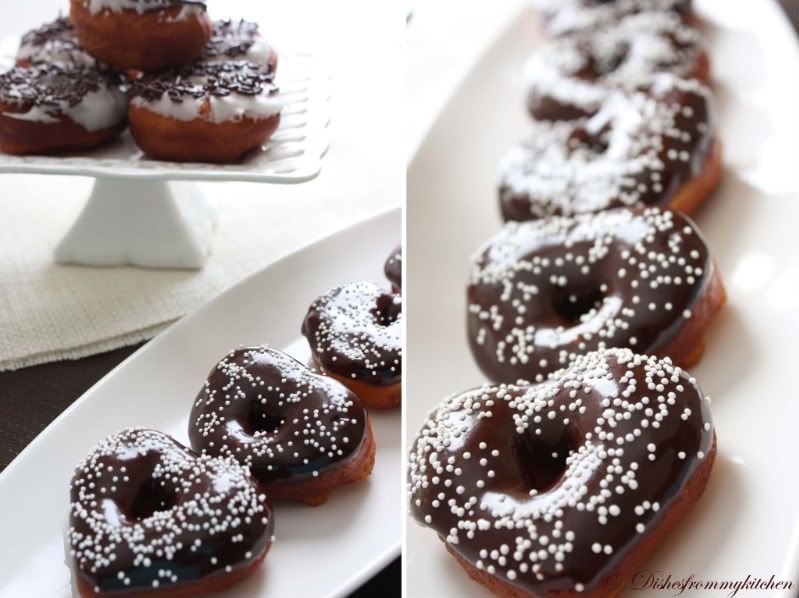 Vanilla Sugar Glaze
Confectioners' sugar - 2 cup
Directions :
Combine milk and vanilla in a medium saucepan and heat over low heat until warm. Sift confectioners' sugar into milk mixture. Whisk slowly, until well combined. Remove the glaze from the heat and set over a bowl of warm water. Dip doughnuts into the glaze, 1 at a time, and set on a draining rack placed in a half sheet pan for 5 minutes before serving.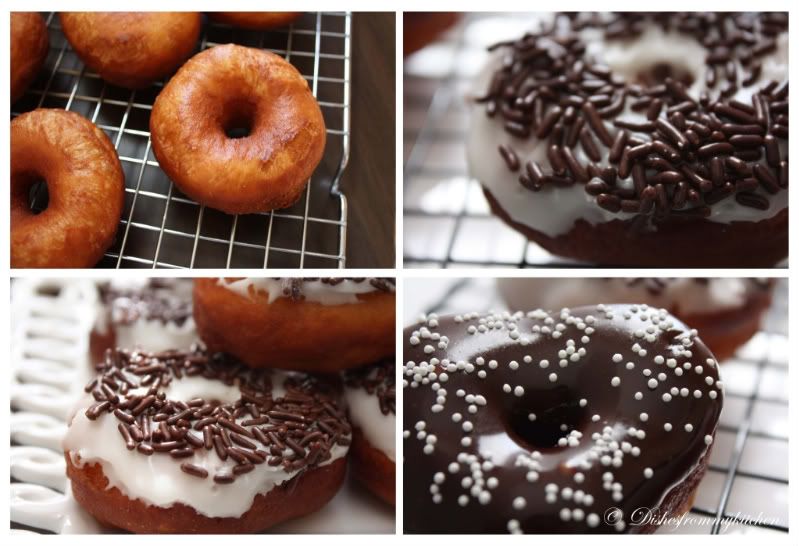 Note:
1. The dough your are mixing will be very very sticky but don't panic when you keep for rising the flour absorbes more moisture and you get the correct consistency when dusting with flour while rolling.