>> Thursday, December 15, 2016 –  after school snack, appetizer, athens phyllo sheets, easy appetizers, fillo sheet, guilt free snack, party appetizer, phyllo sheets, vegetable rolls, vegetarian appetizer, vegetarian appetizers
Yields : 18 rolls

Fillo/ Phyllo pastry sheets - 18 sheets (Thawed)
Potato - 2 medium sized (Boiled and cut to small cubes)
Beans - 1/2 cup very finely chopped
Carrot - 1/2 cup Grated
Green peas - 1/2 cup
Onion - 1 very finely chopped
Garlic - 2
Ginger - 1/2 inch
Green chilli - 1
Garam masala - 1 tsp
Chilli powder - 1 tsp
Tomato sauce - 1/2 tbsp
Lemon juice - from 1/2 lemon
Coriander - 3 tbsp finely chopped
Kosher salt - 1 1/2 tsp
Oil - 1/2 tbsp
Butter - 1 tbsp
Oil - 1 tbsp
Melt the butter and mix with the oil. Keep it aside in a small bowl.
1.Heat oil in a pan add finely chopped onion saute till they are slightly brown, now add Ginger+garlic+Green paste.
2.Once raw aroma disappears add finely chopped beans for few minutes until it is cooked 3/4th. Now add grated carrot, green peas. Saute for few minutes until they are half cooked. (Do not overcook the vegetables)
3.Add all the spice powders, ketchup, boiled potatoes and salt. Toss until everything is blended well.
4.Squeeze juice of half lemon. Finish it with chopped cilantro. Let the stuffing cools completely.
1.Take a sheet and gently brush with
the melted butter and oil mixture. Place another sheet on top of the brushed sheet, again brush with the butter and oil mixture, similarly do it with one more sheet and brush with butter mixture. (Totally 3 sheets - > 1 sheet - Brush with butter mixture - 1 sheet - brush with butter mixture - 1 sheet - butter and oil mixture) Use pastry brush for brushing, do not over brush with butter mixture it makes the sheet soggy. Do it gently and slightly.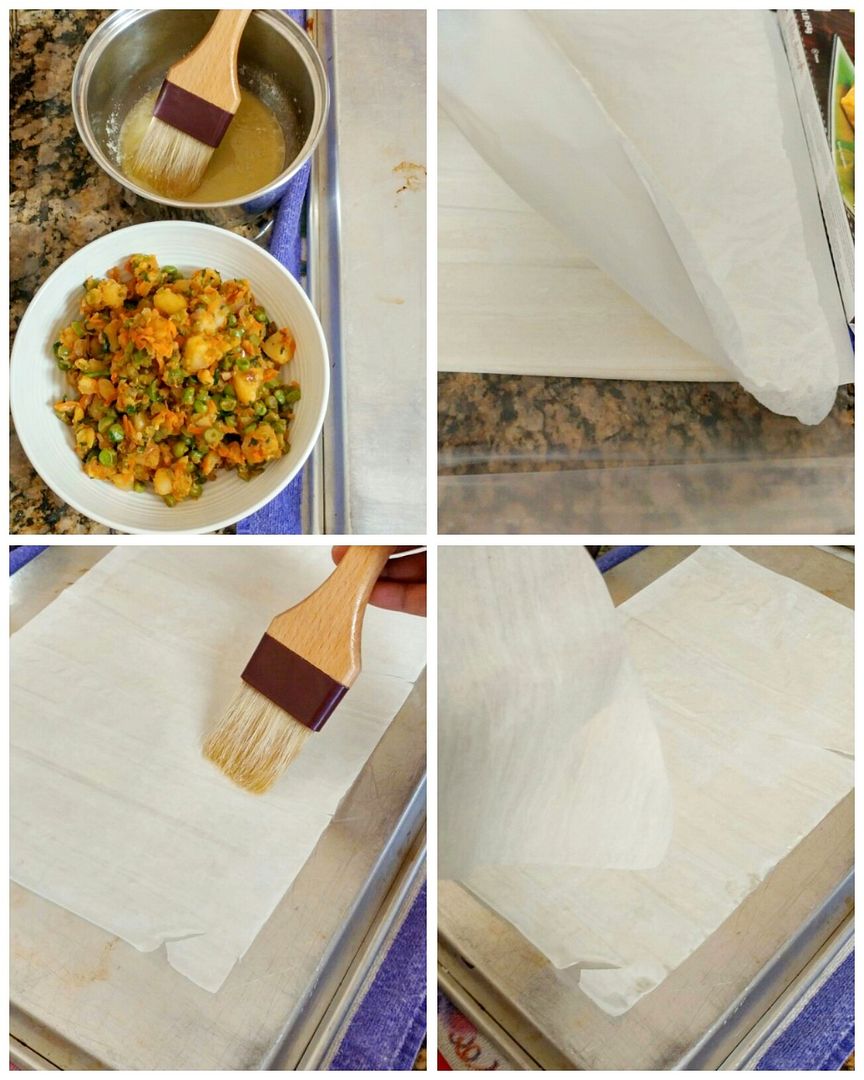 2.Using a knife cut the sheet to 3 equal columns as shown in the picture.
3.Take a tbsp of masala stuffing keep it in one edge and start rolling.
4.Once you roll 1/4 way through tuck in the sides as shown in the picture and roll till the end gently.
5.Similarly make all the rolls and keep it in the baking tray facing seam side down (Keep it closed using damp kitchen towel)
6.Once all the sheets are filled and rolled.
7.Brush the rolls slightly with the remaining butter mixture on top of the rolls and sprinkle sesame seeds.
8.Bake it in the 375F preheated oven for 25 - 30 minutes until they are nice golden brown in color.
9.Serve with Ketchup and Green chilli sauce.
1. Always Keep the Fillo/Phyllo pastry sheets closed with damp kitchen towel to avoid drying.
2. For variation you can add finely chopped soya chunks, boiled corn, baby corn, mushrooms etc.