>> Wednesday, September 12, 2012 –  creamy palak paneer, Indian cheese curry, indian spinach curry, malai palak, palak paneer, paneer curry, Paneer curry in spinach sauce, restuarant style palak paneer, saag paneer, spinach gravy, spinach sauce
Palak paneer is a tasty restaurant dish which is famous throughout India and Pakistan. It has Palak (Spinach) and Paneer which is Indian farmer's cheese made by curdling heated milk with lemon juice, vinegar or any other food acids. This is basically thick curry sauce based on pureed spinach which is very aromatic. It is absolutely heavenly when the cheese is simmered in the sauce and served with dollop of butter.
It is a popular vegetarian dish and is mainly served with any Indian breads, pilaf/pulao or plain steamed Basmati rice. It is very nutritious; I make it very often by substituting Paneer with Aloo (potato), Channa (Garbanzo), Baby corn or grilled corn kernels. I do Spinach sauce in two ways one is by adding tomato to the Curry and another is without tomato. When I am making it without tomato, to get the sour taste I add Amchoor powder (Dry Mango powder) along with lemon or lemon along with yogurt. Either way it tastes very very delicious.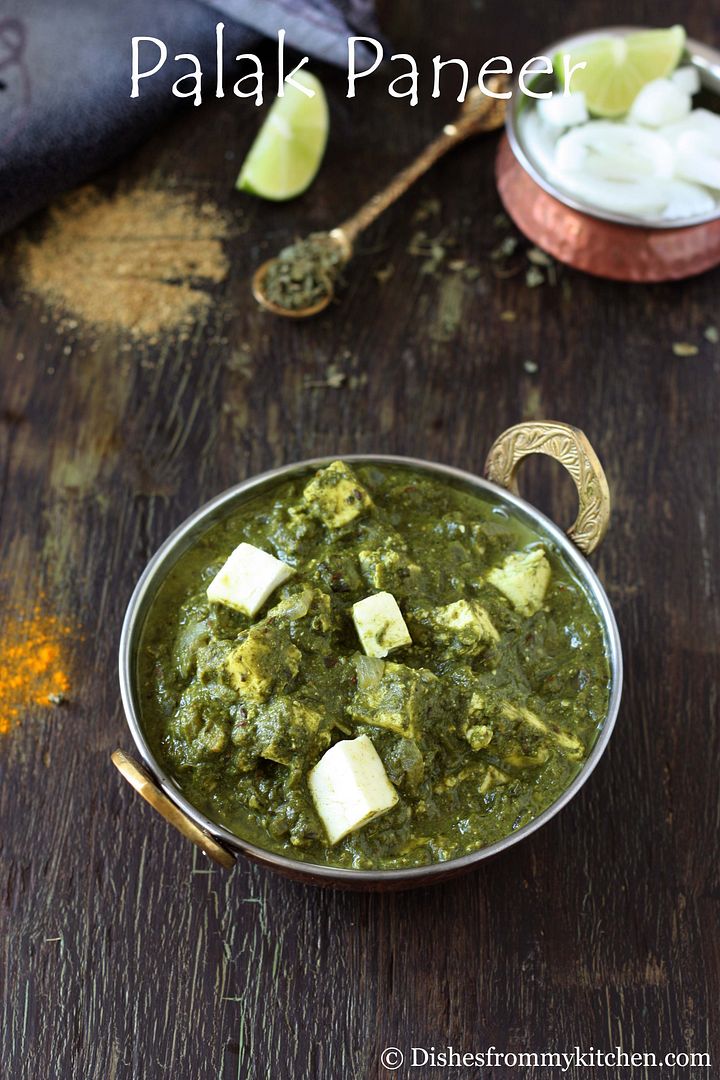 I have also posted the Palak Gravy with Grilled corn in which you can substitute corn with paneer to enjoy creamy and delicious Palak paneer (Version I with tomato).
* GRILLED CORN PALAK
Since I have posted this version already, I wanted to post the Palak Paneer Version II which has no tomato.

Do try both the versions and I am sure you will love Palak paneer both the ways :) Enjoy it with hot bread or rice.

Read my notes if you are in the mood to substitute the cream with Yogurt and Milk :) This is a best way to eat Spinach for Kids/Adults who don't eat or like Spinach. Enjoy the restaurant style Palak paneer at home!!!!


PALAK PANEER (version II)


Ingredients:

Serves 2 or 3



Spinach - 200 Gm
Paneer - 225 Gm (cut to cubes)
Green chillies - 3 or 4
Cilantro - 1/4 cup
Cumin seeds - 1 tsp
Coriander powder - 1 tsp
Roasted cumin powder - 1/2 tsp
Garam masala - 1 tsp
Turmeric powder - 1/2 tsp
Amchoor powder - 1/2 tsp
Onion - 1 (chopped finely)
Garlic - 4 pod
Ginger - 1/2 inch piece
Cream - 1/4 cup (You can also substitute with 1/2 cup whole milk as well)
Dry Fenugreek Leaves(Kasoori Methi) - 1 tsp
Salt - as needed
Sugar - 1/4 tsp
Lemon juice - 1 tsp
Oil - 1 1/2 tbsp
Butter - 1 tbsp

Cut the Paneer in to cubes and put them in hot water. Let them be in hot water until you add them to the sauce/gravy. This process makes the paneer very soft and it just melts in the mouth.


Method:

1. Wash the spinach couple of times. Drain and keep it aside.
2. Sauté in the pan until they wilt (it takes a minute or so) or Microwave for 1 minute until it gets wilted. (make paste out of wilted spinach,coriander and green chilli after masala mixture is ready)

3. Make ginger and garlic paste.
4. Heat oil in the pan, add the whole cumin once.
5. After the cumin stops spluttering, add Onion and sauté till they are slight golden brown.


6. Add the ginger and garlic paste, sauté till the raw aroma disappears.
7. Now add the coriander powder, cumin powder, garam masala and turmeric powder.


8. Once they are blended well, add the Kasoori Methi by crushing in the middle of your palm.

9. Now grind the wilted spinach, coriander leaves and green chillies to into very smooth paste.
10. Now add the spinach puree to the masala mixture. Add little sugar to retain the green color of the mixture.
11. Add 1/2 to 3/4 cup of water and required salt.
12. Now add the cream, mix everything well and let it come to a boil. (Do not cook for long time; it only takes couple of minutes)

13. Now remove the paneer from the hot water, gently squeeze to remove extra water and add to the spinach mixture.
14. Mix slightly until the paneer is coated well with the spinach sauce. Switch of the flame.
15. Add the butter and tsp of lemon juice.

Serve it hot with your favorite bread, Steamed basmati rice or any pilaf/Pulao....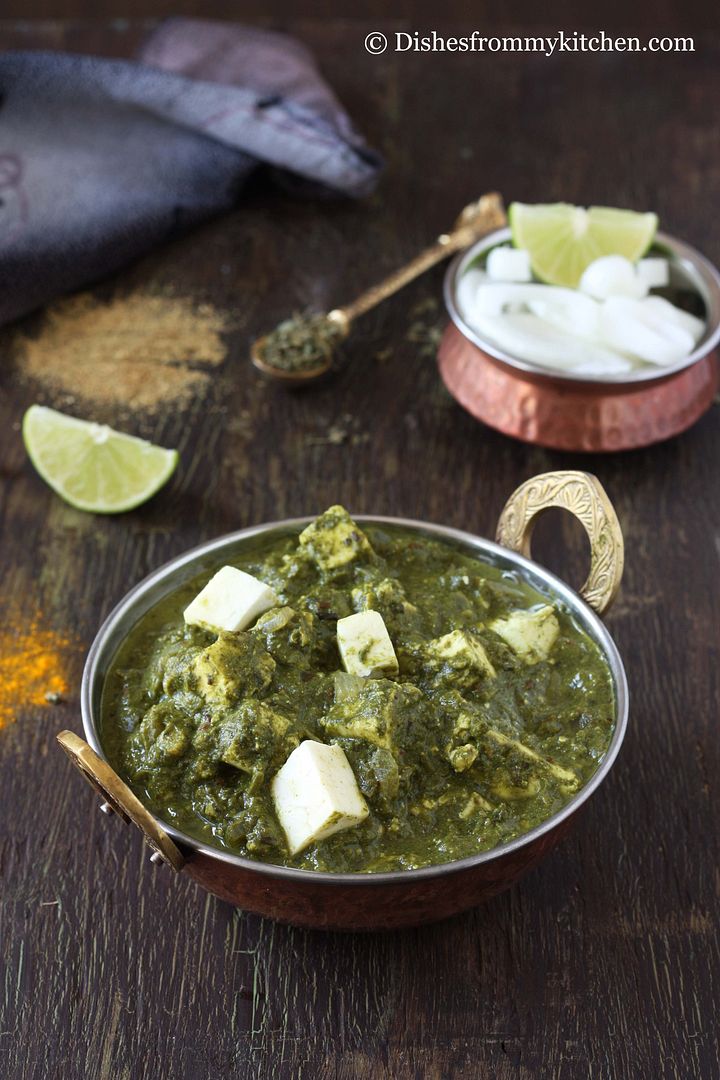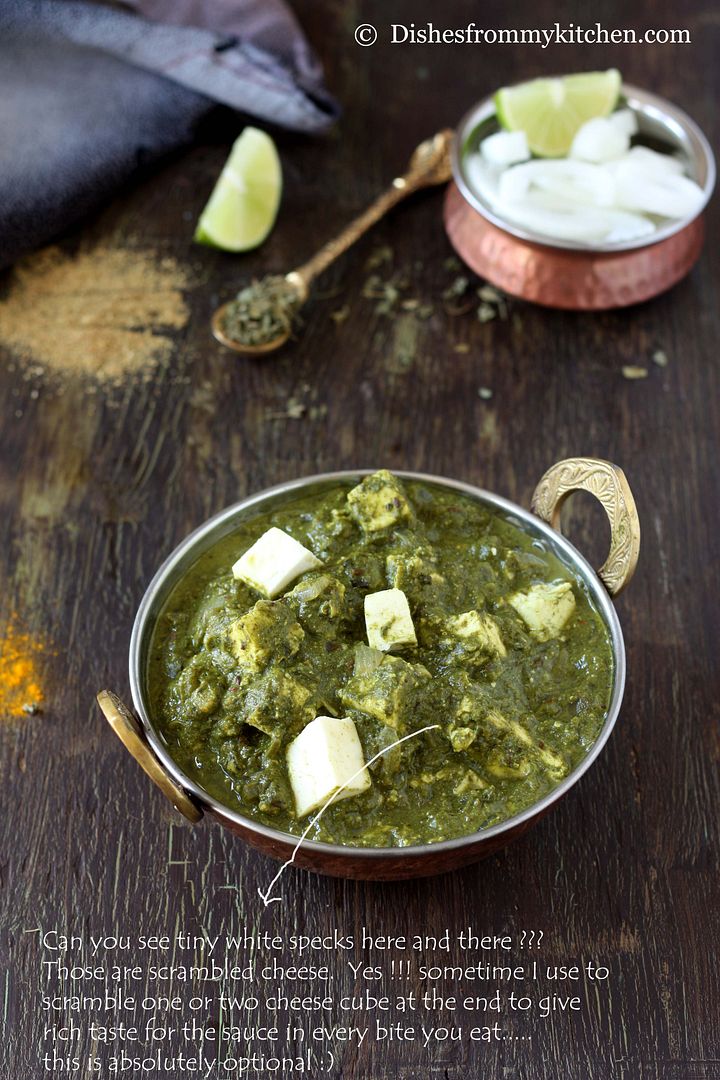 Note:

1. Grind the spinach puree just before adding to the masala mixture, to retain the vibrant Green color.
2. Add the amount of lemon juice according to your sourness level.
3. Add the Lemon juice after switching off the flame, to enjoy the freshness.
4. You can substitute cream with thick yogurt. If you do so, use 3 tbsp of thick yogurt and 2 tbsp of whole milk. If you are adding Yogurt follow these steps..
* Yogurt has to be added before the spinach puree is added to the masala mixture.
* Mix the masala mixture and yogurt, let them blend well and come to a boil.
* Now add the spinach puree and follow the other steps.
* Add the milk only after you switch off the flame.
* Mix everything until they are blended well. Then follow the steps from 13 to 15.
5. If you are calorie conscious you can always substitute cream with yogurt and Milk, also reduce the butter by 1/2 tbsp.
6. You can also add black salt instead of amchoor powder to get a dhaba taste palak paneer.