>> Tuesday, June 12, 2012 –  banana cream caramel dessert, banana dessert in a jar, dessert in a jar, dulce de leche dessert, jar dessert, mango dessert in a jar, tropical fruit dessert, vanilla custard dessert, vanilla pastry cream
Tropical fruits with Vanilla pastry cream, Whipped cream, Dulce de leche/caramel sauce, pecans and graham cracker crumbs when all the good things are put together in a jar then it should be called as Luscious dessert right :) Do you agree with me??? Each and every layer is my favorite one and they are tasty on its own. When they are combined together and served as a dessert... sorry I cannot say no for this kind of dessert :) We enjoyed this royal treat by licking the jar..Enjoy :)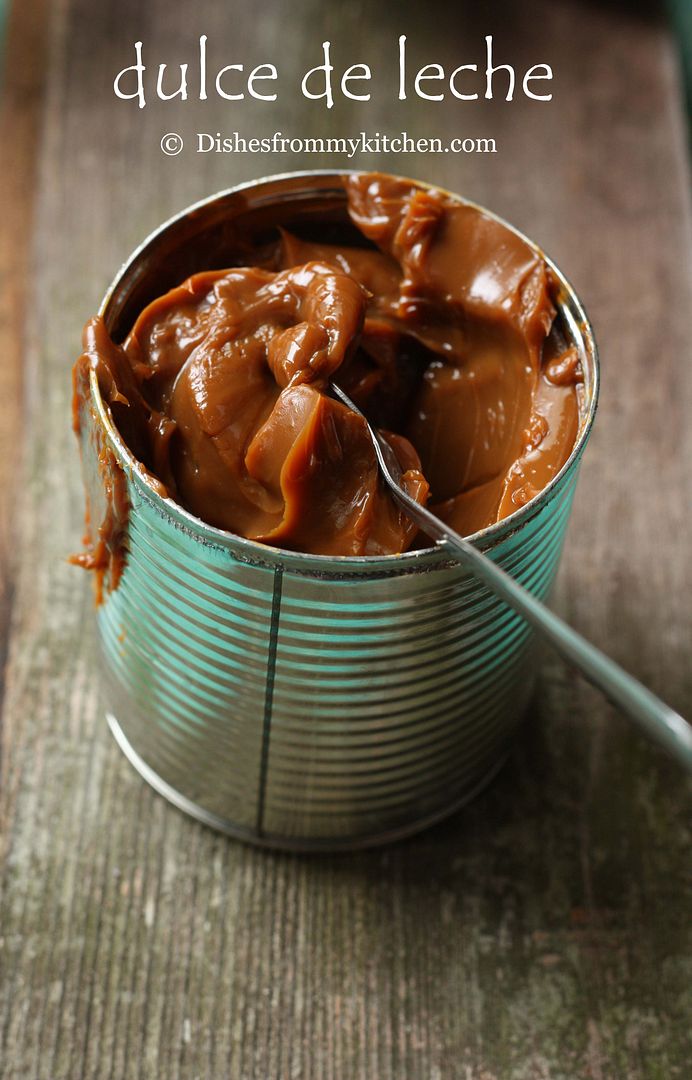 LUSCIOUS TROPICAL FRUIT DESSERT IN A JAR



The below measurement yields 3 to 4 dessert jars (medium size)

Ingredients you need for assembling :

1. Graham cracker crumb
2. Vanilla pastry cream
3. Whipped cream
4. Dulce de leche or any good caramel sauce
5. Pecans - few chopped
6. Mango - 1 chopped
7. Banana - 1 sliced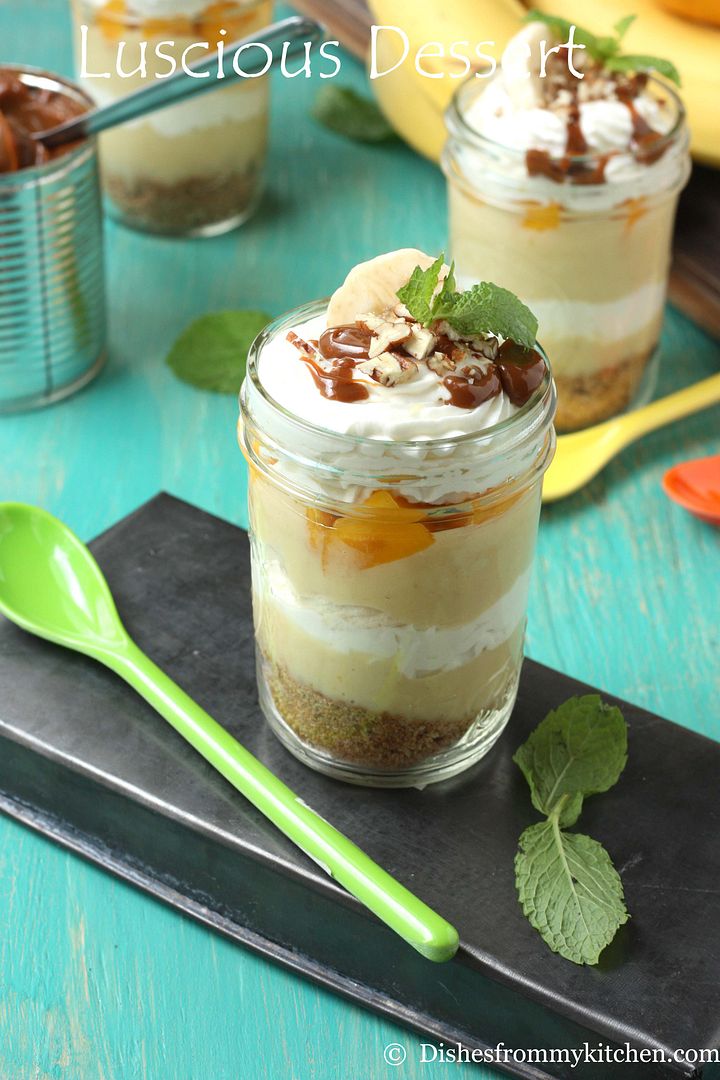 GRAHAM CRACKER CRUMB



Ingredients:

Graham cracker - 3 crackers
Sugar - 3/4 tbsp
Butter - 2 tbsp melted

Method:

1. Roughly powder the graham cracker.
2. Mix all the above ingredients in a bowl.
3. Saute the mixture in a dry pan until they are slightly hot, crispy and golden brown in color.
4. If you do not want to sauté, you can also bake the mixture in 350f oven for just 10 minutes until they are crispy and slightly golden brown in color.
5. When they are done keep it aside and let them cool.




Vanilla pastry filling (Vanilla custard):



Egg yolk - 4
Flour - 2 tbsp
Vanilla paste or bean (1 scrapped) - 1/2 tbsp
Sugar - 1/3 cup
Whole Milk - 1 cup

Method:

1. In a bowl whisk yolks and sugar. Add the vanilla and flour. Whisk again.
2. Simmer the whole milk, it should be hot to touch Now add half of the milk to egg mixture, whisk until they are blended
3. Stir the egg milk mixture back to the boiling milk and stir them until it thickens.
4. Remove from heat, transfer to a bowl. Cover with cling wrap and refrigerate them.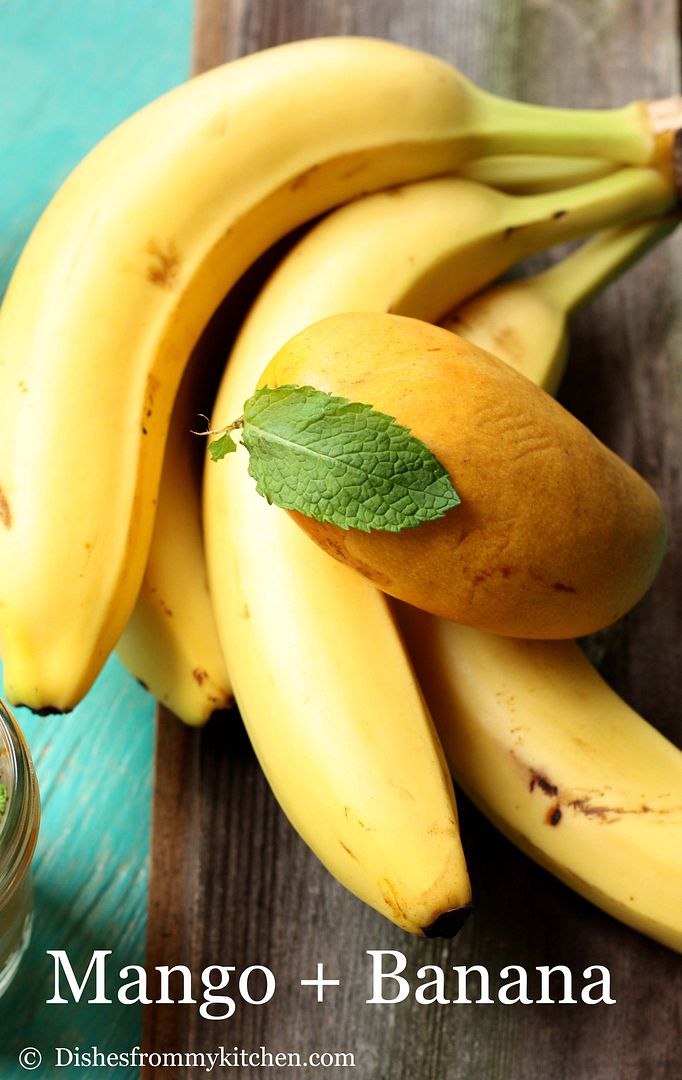 Whipped cream



Ingredients:

Cream - 3/4 cup
Powdered sugar(Icing sugar) - 1 tbsp
Vanilla extract - 1/2 tsp

Method:

1. Whip all the above ingredients and keep them refrigerated until they are ready to use.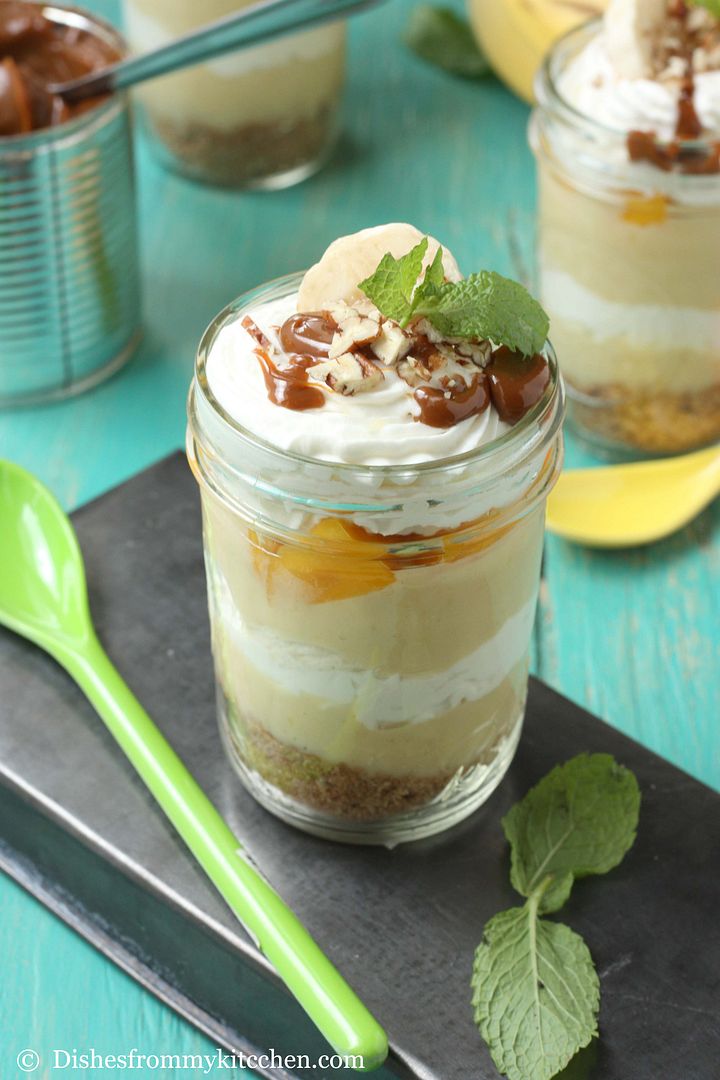 Assembling the dessert:


1. Bottom the jars with the graham cracker crumbs evenly.
2. Next layer with Vanilla pastry cream (each 1 to 1 1/4 tbsp cream).
3. Follow the cream with whipped cream; you can pipe the whipped cream in the jar.
4. Arrange the sliced banana followed by few chopped pecans. Drizzle some caramel or Dulce de leche.
5. Its again time for vanilla pastry cream, chopped mango, Whipped cream.
6. Top it of with the Dulce de leche drizzle, chopped pecans and slice of banana. Garnish with the fresh mint leaf.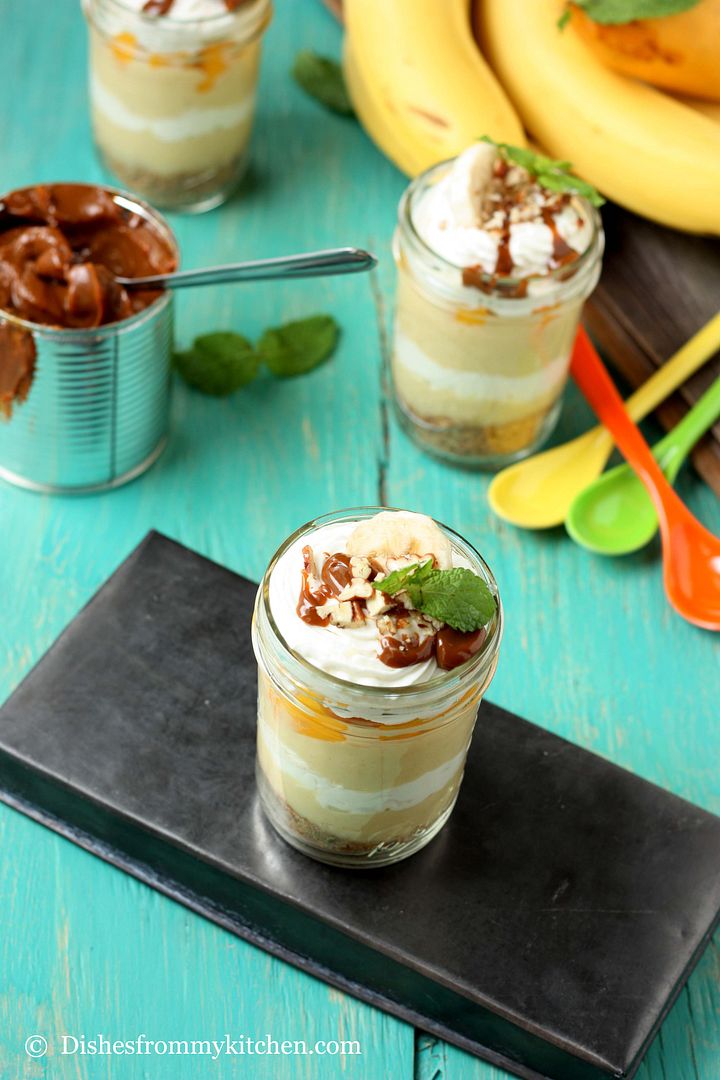 Note:

1. If your Dulce de leche is very thick, in a small bowl take a tbsp of Dulce de leche; add 1/4 tsp of water and microwave for just 15 seconds to loosen them for drizzling consistency.
2. You can make this dessert as an eggless version also, Substitute vanilla pastry cream with the plain custard made using custard pudding powder.
3. Instead of graham cracker you can use any cookie or digestive biscuits.