>> Tuesday, November 22, 2011 –  easy tomato rice, Lunch menu, masala seared tofu, pan seared Tofu, Pressure cooker method, Rice Dishes, Tofu rice, Tofu with spices, tomato pilaf, Tomato pulao, tomato rice, Tomato rice with coconut milk
There are few ways to make Tomato rice with little variations. Few methods involve of making tomato gojju (sauce with spices) and mixing with boiled rice. Another way of making is like pilaf/pulao which is made in pressure cooker or a pan. Whatever the variations and method, love Tomato based rice. The rice which I am posting today is Tomato pulao with Masala seared tofu, If any you don't like Tofu, I am sure you will start loving tofu this way. Tomato with tofu is excellent combination and with some Masala you will not find any soy smell in the Tofu. Do try and let me know how you liked it.
Tomato Pulao/Pilaf with Masala Seared Tofu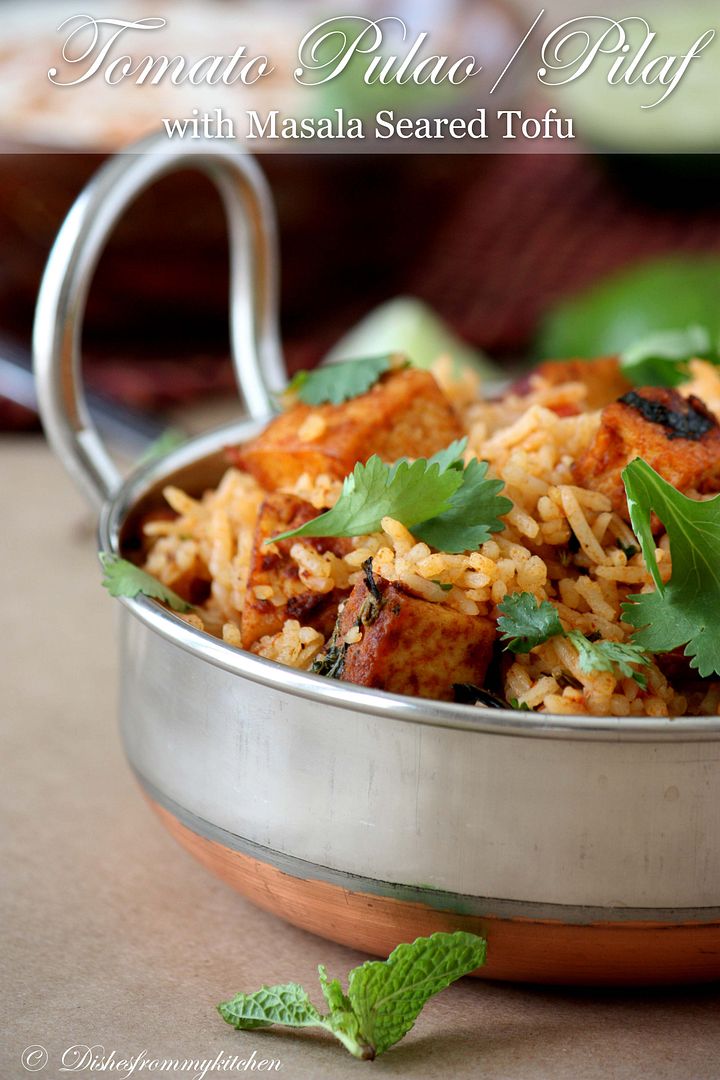 For making rice
Ingredients :
Tomato - 1 and 1/2 cup (chopped) save 1/4 cup for Tofu
Onion - 1 big sliced
Basmati rice - 1 cup
Water - 1 and 1/4 cup
Green chilli - 2 sliced
Chilli powder - 1 tsp (add according to your spice level)
Ginger - 1/4 inch piece
Garlic - 3 pod
Garam Masala - 1/4 tsp
Few sprigs of mint leaves
Coconut Milk - 1/4 cup
Saunf - 1/4 tsp
Coriander 1 handful - chopped finely
Oil and salt
Whole spices:
Cardamom - 1
Clove - 1
Cinnamon - small piece
For Searing Tofu
Ingredients:
Tofu cubes - 2 cups
Tomato - 1/4 cup
Yogurt - 1/4 cup
Whole spices (cardamom, Clove, cinnamon) - each one
Few springs of Mint and coriander leaves
Lemon juice - 1/4 tsp
Chilli powder - 1/4 tsp
Garam Masala - 1/4 tsp
Oil and salt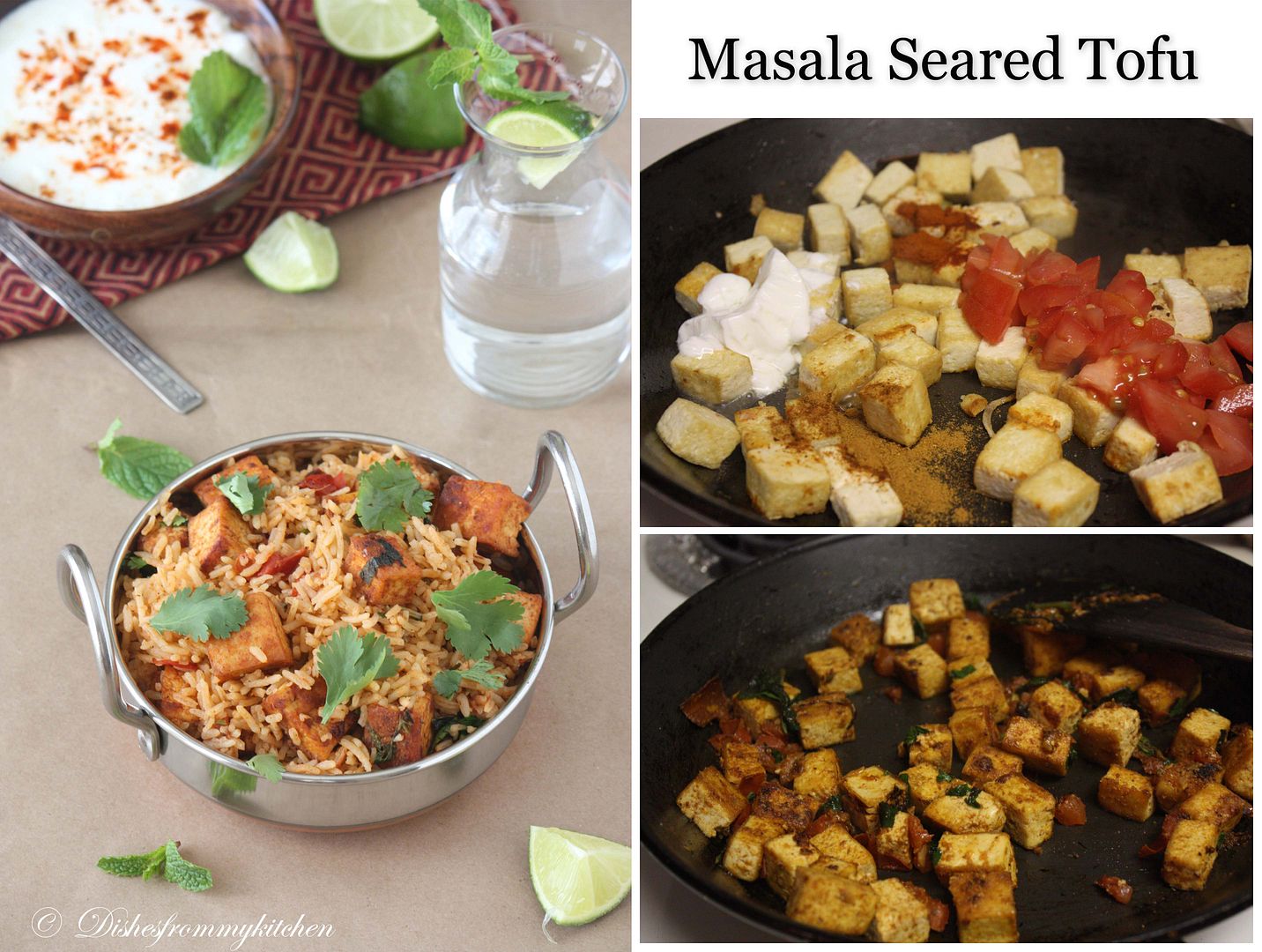 Method for making Rice:
1. Make paste out of Ginger, garlic and saunf, Wash and drain Basmati rice and keep it aside.
2. Now heat oil in the pressure pan or heavy bottom pan.
3. Add the whole spices followed by slice onion, slited green chilli and ginger+garlic+saunf paste.
4. Once the raw aroma of garlic disappears.
5. Now add the Tomato and sauté till all the moisture is absorbed and you will get sauce like consistency.
6. Add Chilli powder, garam Masala powder, mint leaves and sauté.
7. Add measured water and coconut milk, add salt.
8. When it comes to boil add the drained rice.
9. Close the pressure cooker. (If you are using the normal pan close with lid and keep in very slow flame. Let it cook until all the moisture is absorbed)
10. When steam comes, put the whistle. Keep the flame to very low.
11. After 10 to 12 minutes switch off.
12. Give 10 minutes resting time, now open the cooker, add chopped coriander leaves and seared Tofu and give a slight mix.
13. Serve with your favorite Raita.
Method for Searing Tofu:
1. Heat oil in the pan; add the whole spices followed by Tofu cubes.
2. Let it sear for few minutes in all sides until light brown in color.
3. Now add all other ingredients and in slow flame let it roast. (Tomato, yogurts everything gets mushy and coats the Tofu)
4. When everything is will blended and seared, add dash of lemon juice.
5. Mix this seared tofu with rice while serving.


Note :

You can also substitute Tofu with Paneer in this recipe.


Enjoy Tomato Pulao/pilaf with Masala seared Tofu with Raita!!!