>> Monday, November 14, 2011 –  Bread Sandwiches, chaat, chaat masala, chaat sandwich, chaatpatta sandwich, exotic sandwich, filling for sandwiches, masala toast, mint chutney, potato masala, potato sandwich, potato toast, sev in toast
Chaatpatta Sandwich is a wonderful and mouthwatering snack which can also be made as a breakfast and dinner as well. If you have not tried the spicy potato filling this way, try it and I am sure everyone loves it. Crunchiness from sev, freshness from onion and coriander leaves, Spicy potato filling with hint of chaat masala makes this sandwich exotic. Having a Chaat effect in a bread... who will not love it? Here is the recipe....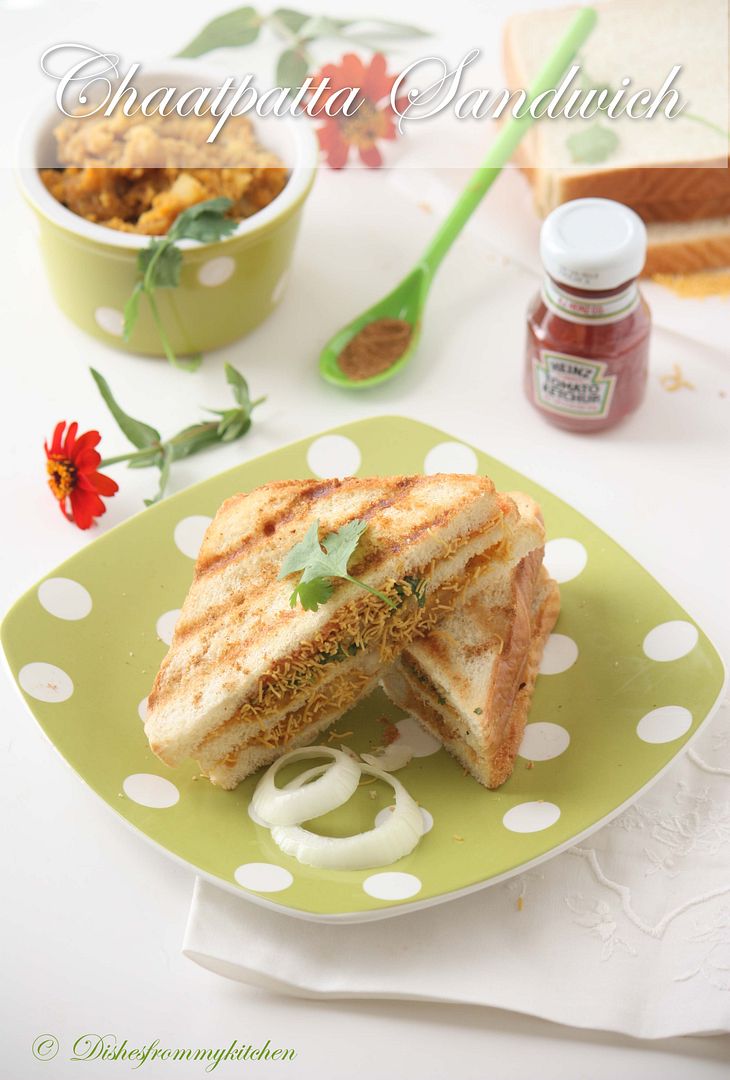 Chaatpatta Sandwich

Things needed for assembling the sandwich?

Bread
Tomato Ketchup
Mint chutney
Potato Filling
Sev/Ompodi
Finely chopped onion
Coriander leaves
Chaat Masala
Butter or Oil for toasting/grilling the bread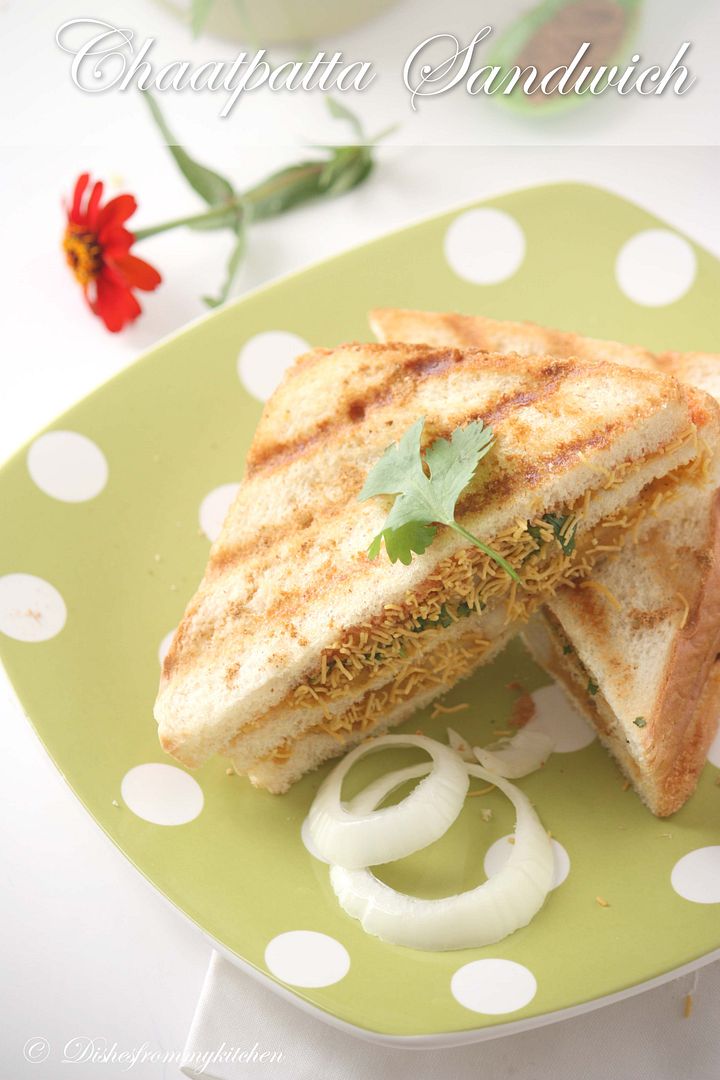 Potato Filling

Ingredients:

Potato - 1 large (boiled, peeled, mashed along with small pieces)
Cumin seeds - 1/4 tsp
Garam Masala powder - 1/4 tsp
Red chilli powder -1/4 tsp
Coriander seeds - 1/4 tsp roast in dry pan and crush it
Oil for sautéing the mixture - 1 tbsp
Salt to taste

Method:

1. Heat oil in the pan; add cumin seeds.
2. Add the mashed potato and add the garam Masala powder and red chilli powder.
3. Give a nice toss until well blended.
4. Now crushed coriander seeds.
5. Let the mixture cool.

Mint Chutney

Ingredients:


Mint leaves- 1/2 bunch
Coriander leaves-1/4 bunch
Garlic - 1 pod
Ginger - 1/4 inch
Lemon juice - 2 tsp
Salt as required

1. Blend everything in the blender using little water to make thick paste.


Note:

You can refrigerate the extra chutney in the fridge for 7 days.

Assembling:

1. Grill 3 the bread by applying little butter or spraying little oil nice and crisp.
2. Apply bread with the thin layer of potato filling, sprinkle some finely chopped onion. Sprinkle some Sev/Ompodi followed with Coriander leaves. Squeeze some Ketchup.
3. Top with other bread and follow the same 2nd point again.
4. Take one more bread apply the Mint Chutney. Close the second bread.
5. Grill it again just for a couple of second as the onion and coriander should not be cooked.
6. Take it out cut to into 2 triangles; serve it by sprinkling some chaat masala.

Enjoy the Chaatpatta Sandwich with tea, coffee, as a breakfast or as a Dinner. Either way it is yumm!!!