>> Thursday, March 21, 2013 –  brownie brittle cookies, brownie cookies, brownie in cookie form, chocolate brownie cookies, chocolate cookies, crackle cookies, easy brownie bites, low fat chocolate cookies, texture chocolate cookies
Chocolate brownie cookie is absolutely easy and very addictive cookies. These cookies are soft, chewy has fudgy center with crisp exterior. Do try it out you will surely fall in love with it.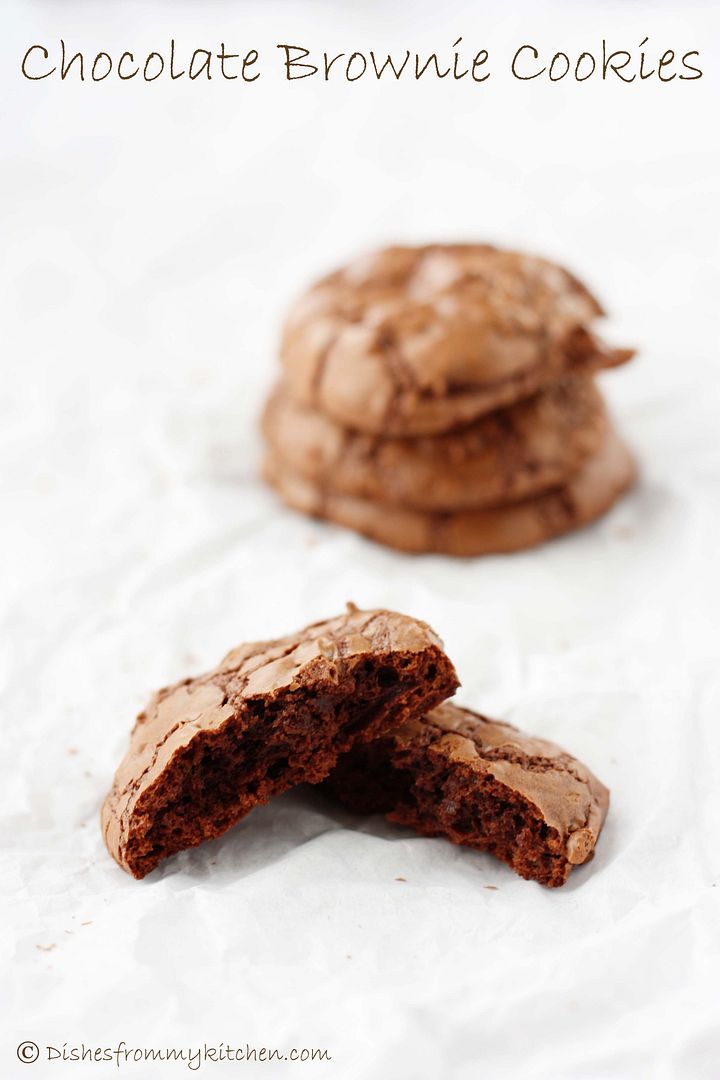 Chocolate Brownie Cookies




Ingredients:


Yields - 2 to 2 1/2 dozen Recipe Source: Epicurious.com All-purpose flour - 1/8 cup
Baking powder - 1/8 tsp
Salt - 1/16 tsp
Egg - 1 large
Sugar - 1/3 cup
Unsalted butter - 1 tbsp
Bittersweet chocolate - 3 1/2 oz chopped
Mini chocolate chips - 1/2 cup
Brewed espresso - 1/4 tbsp
Vanilla extract - 1/2 tsp



Method:



1. Preheat oven to 375°F. Line 2 baking sheets with parchment paper.
2. In a small bowl whisk together the flour, baking powder, and salt.
3. In the bowl of an electric mixer, briefly whip the eggs to break them up.
4. Add the sugar, espresso, and vanilla and beat on high speed for 15 minutes, until thick.
5. While the eggs are whipping, place the butter and chopped bittersweet chocolate on top of a double boiler. Heat until the butter and chocolate melts. Remove the boiler top from over the water and stir the chocolate and butter until smooth.
6. Gently fold the chocolate mixture into the egg mixture until partially combined (there should still be some streaks). 7. Add the flour mixture to the batter and carefully fold it in. Fold in the mini chocolate chips.
8. If the batter is very runny, let it rest until it thickens slightly, about 5 minutes.
9. Drop the batter by heaping teaspoonfuls onto the prepared baking sheets and bake until puffed and cracked, 8 to 9 minutes.
10. Cool on a wire rack before removing from the baking sheets.

Note:

For variations:

You can substitute 1/2 cup chopped toasted nuts, dried sour cherries or pepper mint candy for an equal amount of the chocolate chips OR 1/4 cup of nuts, cherries or crushed mint candy and 1/4 cup of Mini chocolate chips.