>> Tuesday, April 19, 2011 –  berry jam, berry preserves, blueberry jam, cranberry granola, granola mixture, healthy snack, jam and preserves no pectine, jam using agave, nuts granola, oats granola, pecans, strawberry jam
Parfait with healthy granola, low fat yogurt with some home made Berry preserves sounds healthy right... yes it is. If it is home made granola and home made Berry Jam/Preserve then it is double likes. Truly it is delicious and healthy dessert. The berry jam/preserve which is I am posting has no sugar; instead I am using Agave Nectar. I know everyone will be aware of this natural sweetener. Anyway here is a brief... Agave is a natural sweetener extracted from the heart of agave plant. It is low in glycemic index, so it is slowly absorbed into the body preventing spikes in blood sugar. It is 25% sweeter than sugar so you need less. The sweet mild taste is perfect for sweetening beverages, baking etc.

The Granola I am posting is oats with cranberry and nuts. You can mix and match your favorite nuts and dried fruits of same amount. But this is standard recipe which I am following every time I make and as I said by using different nuts and dried fruits every time.

The Berry Preserves is quick method which has no pectin in it, it can be stored in the fridge for a month. You can follow the same method with your favorite fruits, just by adjusting the sweetener alone, as it depends on the type of fruit we use. As this has no preservatives this has to be consumed soon, not more than a month.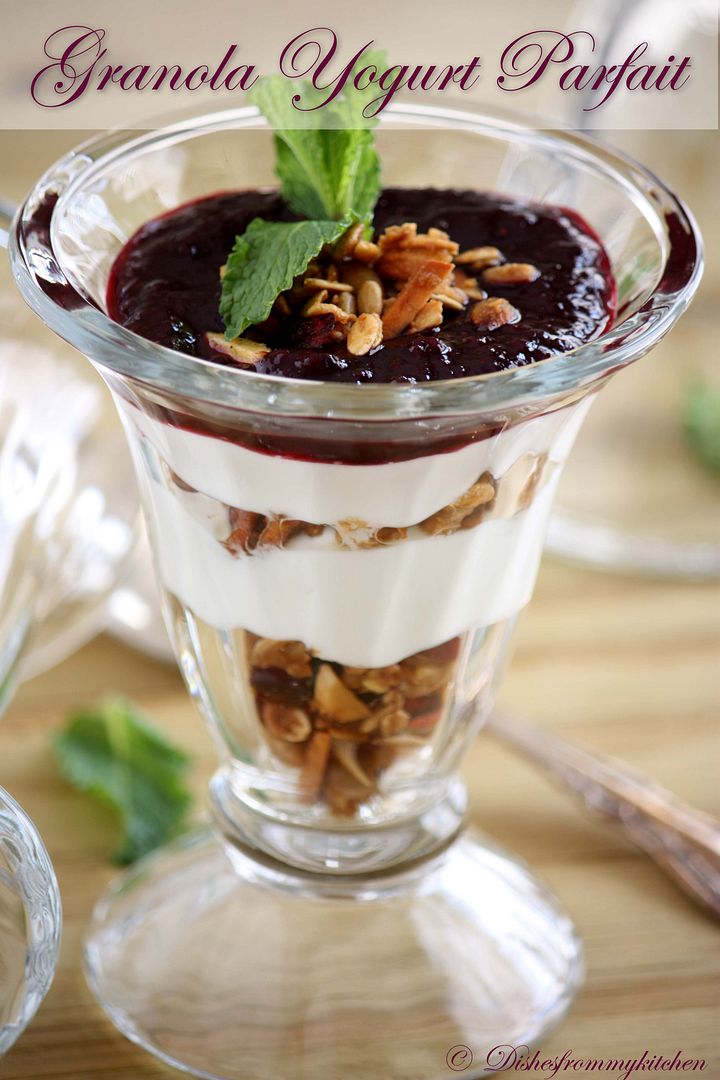 OATS AND CRANBERRY/NUTS GRANOLA

Ingredients:

Old fashioned oats - 2 cups
(You can also use Instant oats, but reduce the baking time and amount of orange Juice to 1/4 cups)
Roasted almonds - 1/2 cup chopped
Dried cranberries - 1 cup
Pumpkin seeds - 1/4 cup
Sunflower seeds - 1/4 cup
Pecans - 1/4 cup chopped
Honey - 1/3 cup
Brown sugar - 2/3 cup tightly packed
Unsweetened Orange juice - 1/2 cup
Ground cinnamon - 1 tsp
Fine sea salt- 1/4 teaspoon
Nonstick cooking spray or Silpat or Nonstick Parchment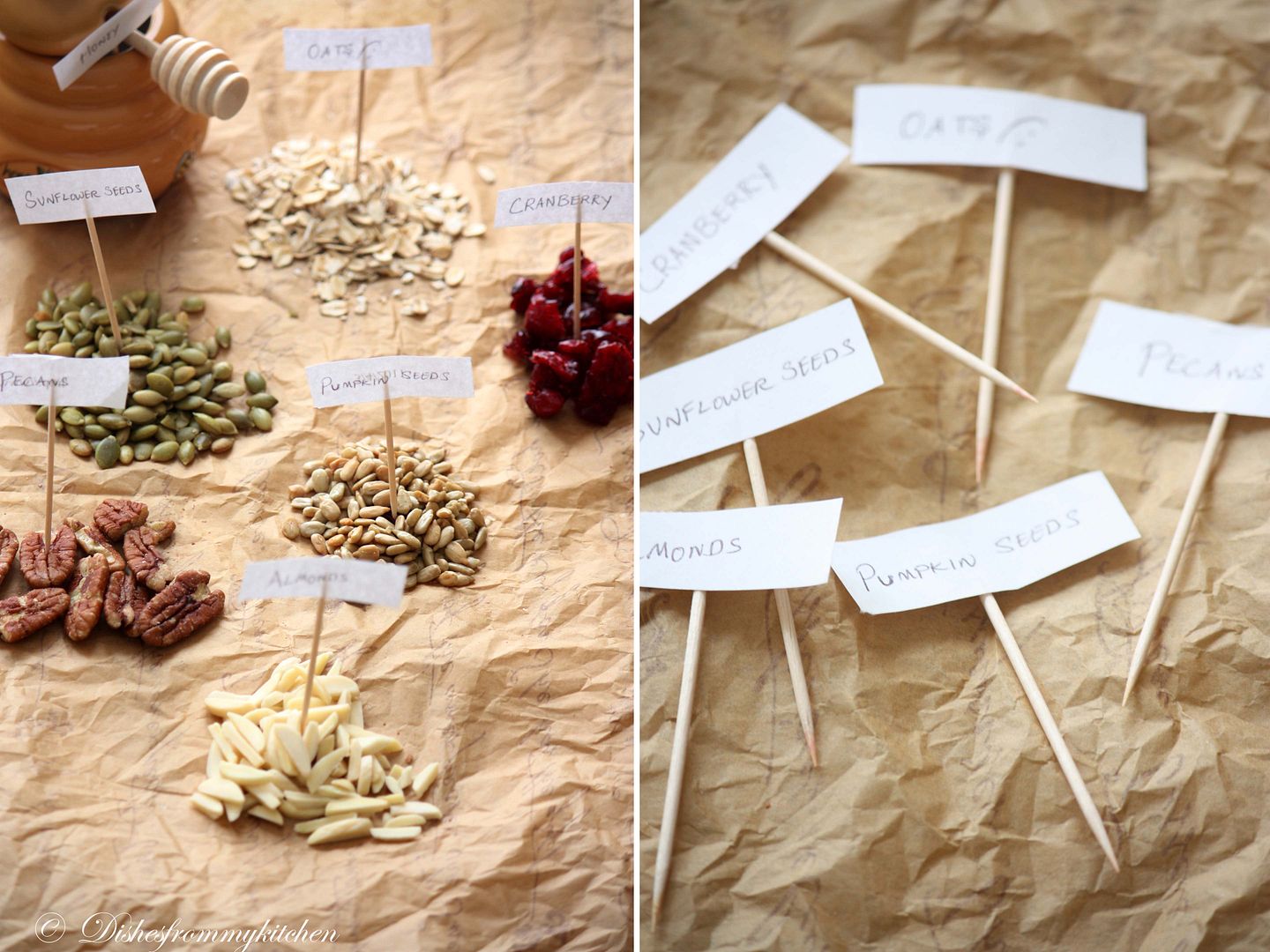 Method:

1. Preheat the oven to 350°f.
2. Spread the pumpkin seeds and sunflower seeds on a baking sheet. Bake for 8 to 10 minutes until lightly toasted. Set aside to cool.
3. Reduce the oven temperature to 325°f.
4. Spray a baking sheet with nonstick cooking spray. Set aside.
5. In a small saucepan, combine honey, brown sugar, Orange juice and cinnamon over medium heat.
6. Cook the above mixture, until the sugar has dissolved, stir constantly.
7. Mix together the oats, almonds, pecans, pumpkin seeds, sunflower seeds, and salt.
8. Pour the honey mixture over the oat mixture and stir until combined.
9. Let this sit for 5 minutes, mix once in a while.
10. Spread this mixture onto the prepared baking sheet.
11. Bake for 20 to 25 minutes. For every 10 minutes take the tray out and give it a stir/or to make even browning.
12. Remove the baking sheet from the oven.
13. Stir in the cranberries and bake for an additional 10 to 15 minutes until the mixture begins to brown.
14. Cool completely. Store in an air tight container. You can keep this for up to 3 weeks.

Wonderful healthy snack is ready !!!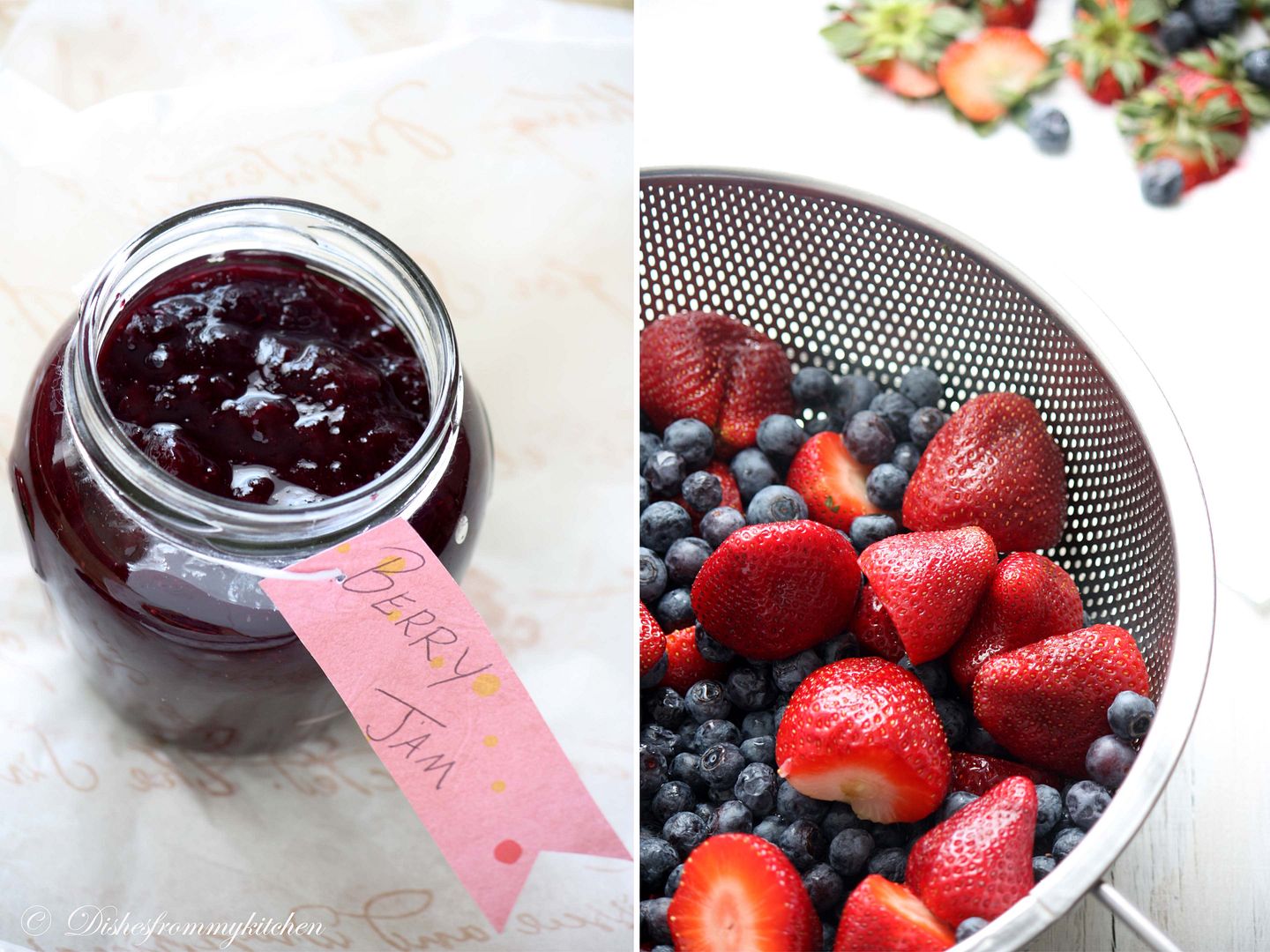 Note :
1. You can also add the choco chips, but add it after the mixtures is roasted and cooled completely.
2. The oven time varies so watch out. When the granola mixture is slightly browned it means it is done. If you brown or roast for too long then it becomes harder rather than crispier.
BERRY PRESERVE/JAM
Ingredients:
Mixed berries - 7 cup
Agave - 1 1/4 cup
Zest of 1 lemon
Juice of 1 lemon (Use Meyer lemon if available)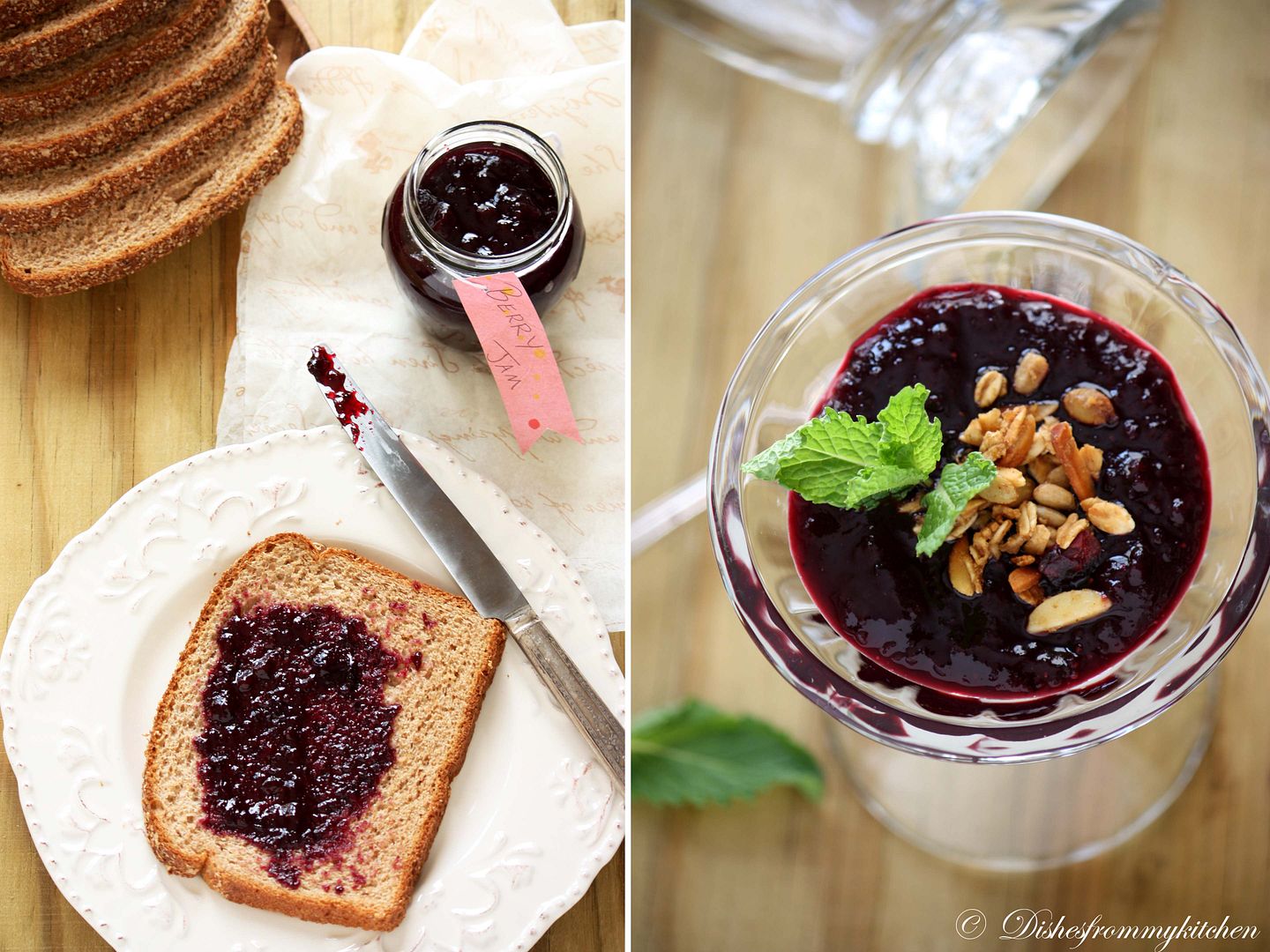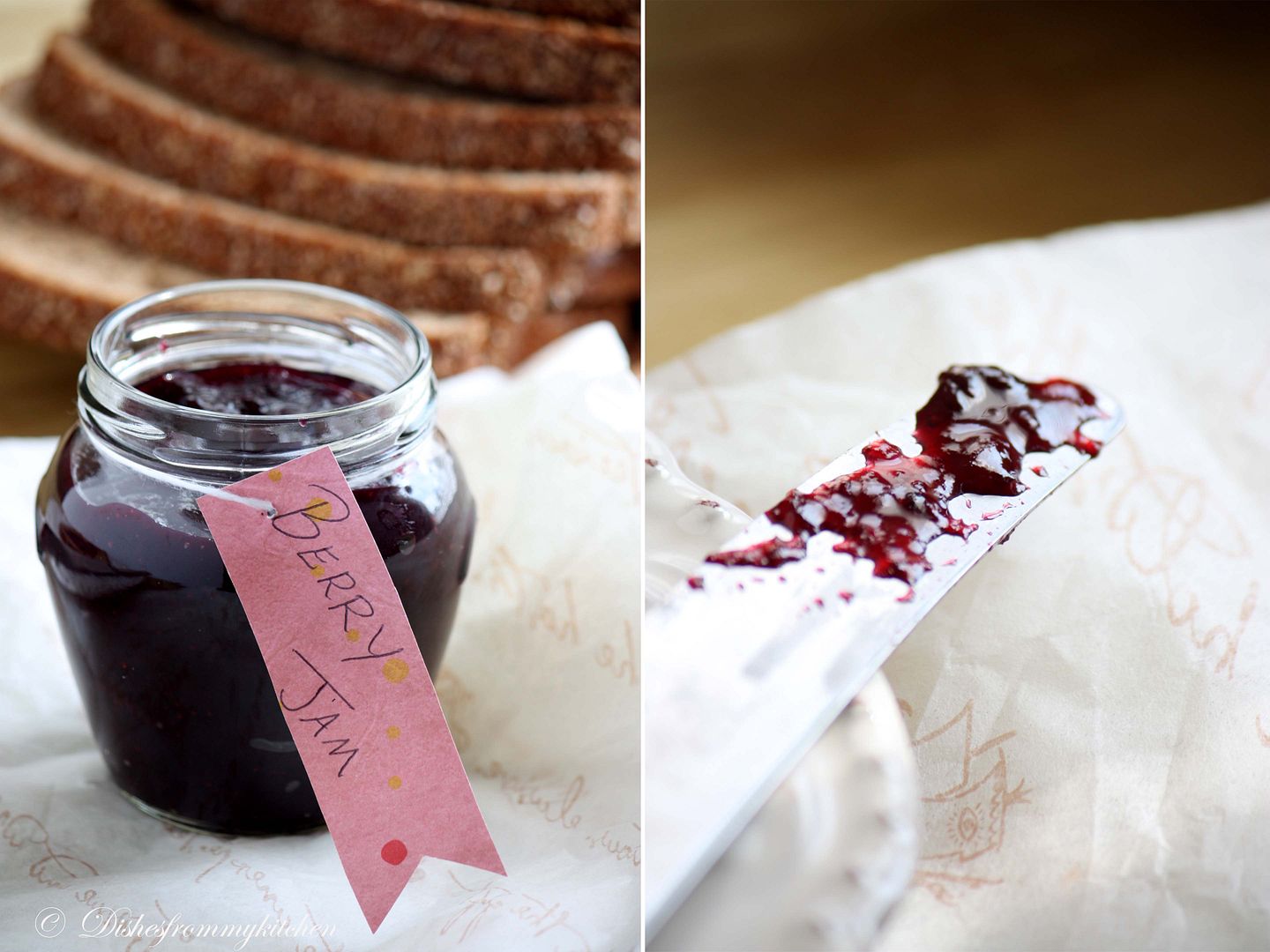 Method:


1. Wash and drain the berries.
2. Puree in the food processor roughly.
3. In the medium heavy bottom pan, add this puree, agave, and zest and Lemon juice.
4. Let this cook for few minutes, stir once in a while. (When it is cooking it splutters, so watch out)
5. Cook rapidly almost too gelling point.
6. When the mixture thickens, stir frequently to prevent sticking.
7. At first you will see lot of bubbles, later it starts to disappear and also it thickens. Then its time to do the gelling test.

Gelling test:

Place a plate in the freezer, now place a small amount of the hot spread on the chilled plate.. Set the plate in a freezer until the spread is cooled to room temperature. Now run your finger through the cooled spread. If it separates then slowly returns to its original form then it is ready.

Storing:

1. Cool this preserve.
2. And store in the clean sterilized bottle.
3. This can be kept for 1 month.
4. Usually I make this quantity and store in 2 bottles, when 1 bottle is done. Then Open another one, instead of storing whole thing in single bottle.


For the Parfait :


I used Greek yogurt
Granola
Berry Preserve


In a tall glass, fill the above three in layers and enjoy your healthy dessert.