>> Wednesday, February 9, 2011 –  Bokchoy, Chinese, Chinese stir fry, Korean Rice cake, NapaCabbage, Rice Cake, Rice Ovalette stirfry, Rice Ovaletts, Szechuan style stir fries with veggies, Tteok, Vegetarian Mushroom Oyster sauce
Tteok or Rice Ovalett is a class of Korean rice cakes made with glutinous rice flour. The texture is not sticky but chewy (Tastes like Rice Noodles but more chunky). This Rice Ovaletts is basically flavorless, so you can pretty much add this to any sauces, soups, and stir fries with your favorite veggies. Since we love Szechuan stir fries I adapted same for making Rice Ovalett stir fry combining all our favorite veggies. Here goes the recipe for savory cake..... :)
RICE OVALETT STIR FRY (Szechuan Style)
Rice Ovaletts - 1 cup (I used Frozen; u can separate the ovaletts just by putting them in warm water for 5 minutes)
Firm Tofu - 10 small cubes
Mushrooms - 4 to 5 sliced
Napa Cabbage - 1 cup chopped big
Lotus stem - 1 sliced (optional) but I love this so much, it's so crunchy and it has wonderful texture if we add for stir fries.
Spring onion - 2 to 3 stalk sliced (green part) for Garnishing
Dried Red chilli - 2 ( Remove the seeds)
Vegetarian Mushroom Oyster sauce - 1 tbsp (If you don't have just replace with soy sauce, but Mushroom oyster sauce (Vegetarian) gives wonderful flavor)
Chilli Garlic sauce - 1/4 tbsp (But you can increase, if you really like spicy)
Salt as needed (As both the sauces has salt in it, watch out!!!)
Cornstarch - 1/4 tbsp mixed with 2 tbsp of water
1. Place a cup of water to boil, now add the Rice Ovalett to the boiling water, and continue to boil for 2 to 3 minutes until they float to the top.
2. Heat oil in the pan, fry all the veggies in the High flame, the whole process just takes few minutes.
3. First add the minced garlic, followed by dried red chillies, Sliced lotus stem, sauté for few seconds.
4. Add mushroom, carrots; give nice toss for few seconds until they are 1/2 cooked.
5. Now add Napa cabbage, Tofu, Bokchoy and Cooked Rice Ovaletts.
6. Immediately add the sauces, add salt as required. Give a toss or sauté for few seconds.
7. Add the corn starch , mix everything well until nicely blended and let it cook for just few seconds with starch and come together saucy !!!
This tastes good when it is hot, so serve very hot by garnishing with sliced spring onions!!!
This itself a great satisfying one pot meal!!! So Enjoy!!!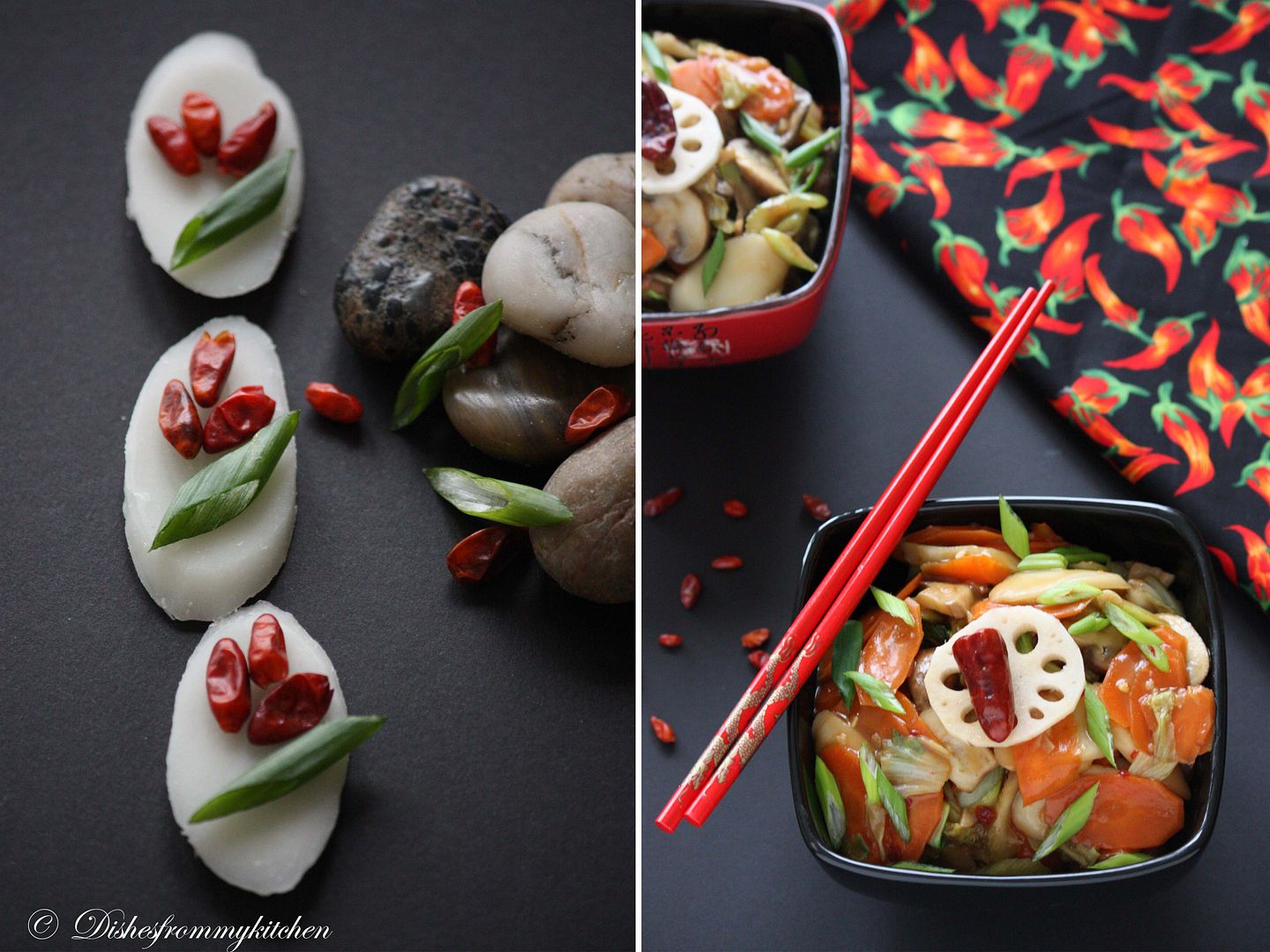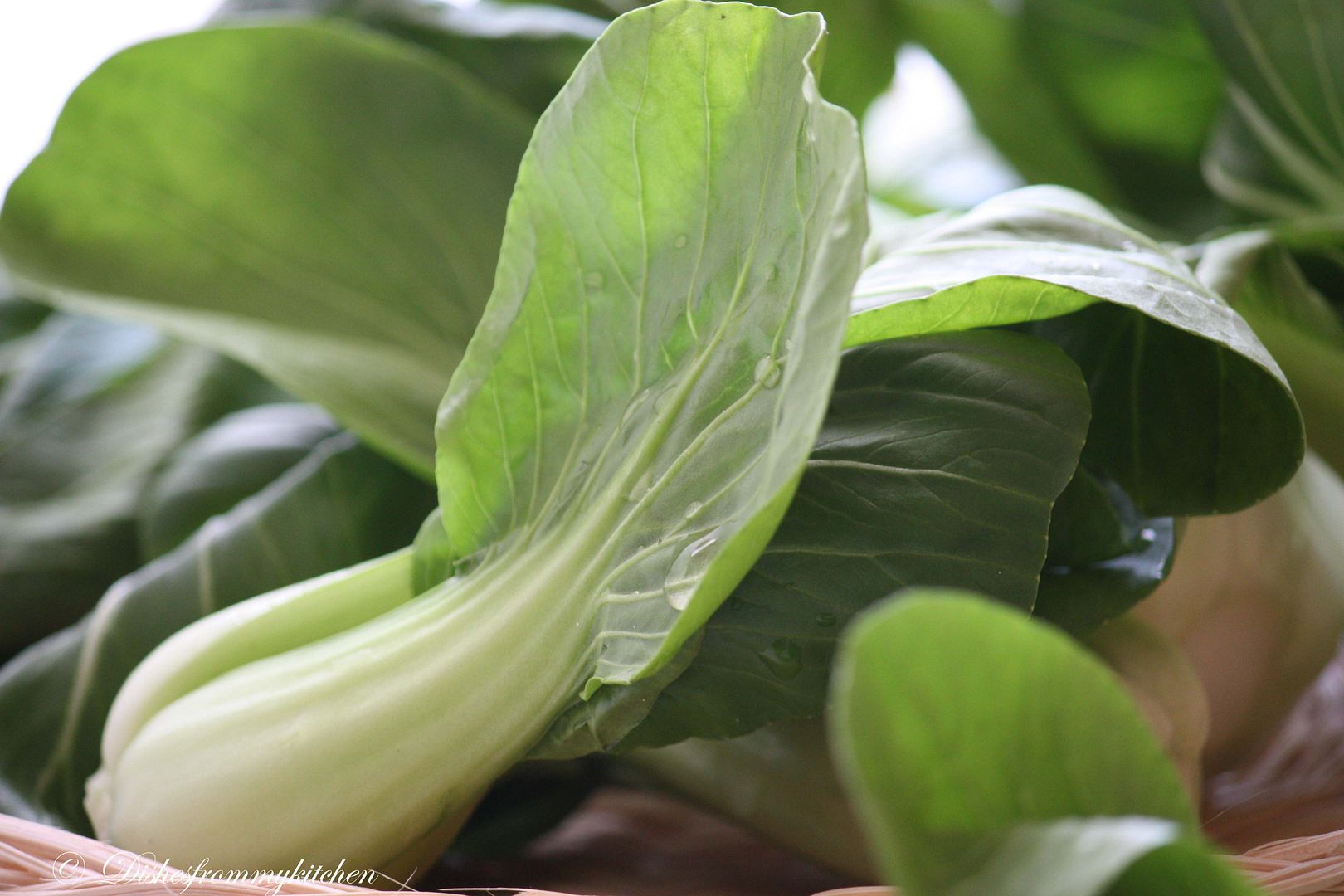 1. Follow the same procedure for Vegetable Szechuan style stir fry even without the Rice Ovalett and serve with Jasmine Rice.