A Black Forest Trifle has the same components as a Black Forest Cake (Gateau); that is, chocolate, cherries, kirsch liqueur or kirschwasser, whipped cream, whipped chocolate cream. What ever it may be everyone loves it in either ways right ??? Hope everyone will agree with me. I made this dessert in a deal with my kid, because I did not give him a single slice of Black forest Gateau which I made for Thanksgiving party in my
husband's
the office. Since I promised my son that I will make this dessert for him he agreed. That's the deal and a sweet story behind this dessert. Hope you all enjoy my sweet treat as well....
BLACK FOREST TRIFLE

Ingredients :

You can add all the ingredients according to your preferences, but this is the way I arranged in the glass.

Chocolate sponge ( or you can also use Brownies)
Tinned cherries ( I love Dark cherries, reserve the liquid)
Whipped cream - 1/4 cup ( this measurement is for 6 shot glasses)
Chocolate chips - 1/3 cup
Chocolate shavings - 3 tbsp
Vanilla essence - little
Sugar - 1 1/2 tbsp
Mint for garnishing.


Method:

1. Crumble the cake, but I used the biscuit cutter to cut the cake.
2. Fill the down layer with the cake, spoon the cherry syrup over the cake.
3. Whip the cream adding sugar and essence. Divide into two portions.
4. Melt the Chocolate chips in the Microwave until it melts(Keep an eye, it can burn easily).
5. Cool the melted chocolate, once it is cooled add the 1/2 whipped cream and whisk well until they are blended well.
6. OK now fill the next layer with the chocolate whipped cream, followed by few cherries and chocolate shavings.
7. Next fill it again with the chocolate sponge, now spoon(moistening) little cherry syrup over the cake.
8. Finish them by piping Whipped cream. Garnish with cherry, chocolate shavings or mint as you wish.

Keep it refrigerated for few hours , minimum 4 to 5 hrs. Serve chilled and enjoy every single spoon.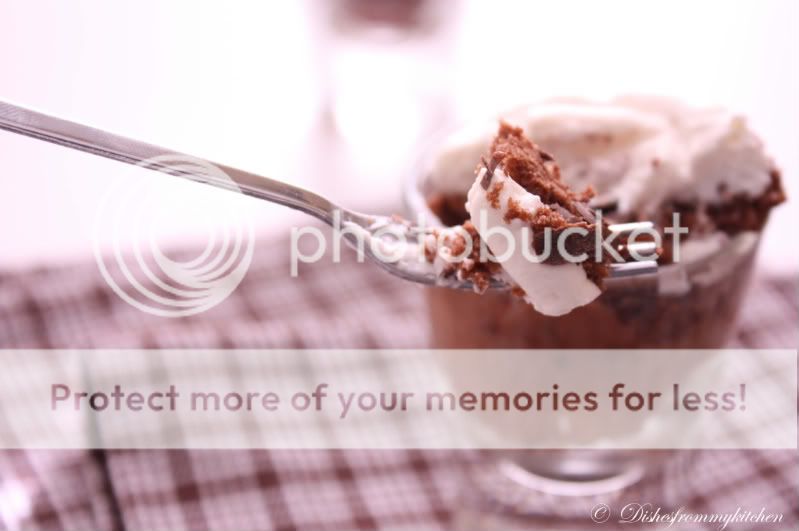 Note :

1.Adjust the quantities of each ingredients according to the size of the glass or dish whichever you are using.
2. You can also use the Krisch Liqueur for soaking the sponge instead of drained cherry syrup.