Its getting colder day by day here in Minnesota. Before the fall and snow showers there was huge and largest state fair which is going around for the people to enjoy the

yummilicious

food and entertainment for kiddos. Here is a brief about the Minnesota state Fair.. and I am also sharing some of the pictures. If you are not calorie conscious there are lot of stuffs to taste, Starting from French fries to deep fried chocolate bars everything was tasty. If you are a non-vegetarian lover the choices are endless. You can taste variety of wine, beer etc. Emphasis is given to locally grown Minnesota vegetables, fruits and flowers; all these things are showcased in the fair , these are very colorful. We tasted some, and was drooling over other stuffs :( . Apart from the food , drinks and rides there are lot of Art and Craft exhibits. Here are some pictures and if you want to take a look at other fair pictures just go with this link.....More Photos.




MINNESOTA STATE FAIR



The Minnesota State Fair is the state fair of the U.S. state of Minnesota. Its slogan is "The Great Minnesota Get-Together." It may be the largest state fair in the United States in terms of average daily attendance, though the State Fair of Texas runs twice as long and is the largest by annual attendance. It is held at the state fairgrounds, adjoining the Saint Paul campus of the University of Minnesota. The site is in the suburb of Falcon Heights, Minnesota, midway between the state's capital city of St. Paul and the largest city, Minneapolis. Residents of the state and region come to the fair to be entertained, exhibit their best livestock, show off their abilities in a variety of fields including art and cooking, learn about new products and services, and enjoy many different types of food—often on a stick. It typically runs for twelve days, running from late August into early September with the last day being Labor Day.

There were lot and lots of nuts. I bought cinnamon Almonds, Praline pecans and Buttered caramel peanuts.




Crispy, Tasty and Fresh....

Yumm

!!!


So

Chocolatey

!!!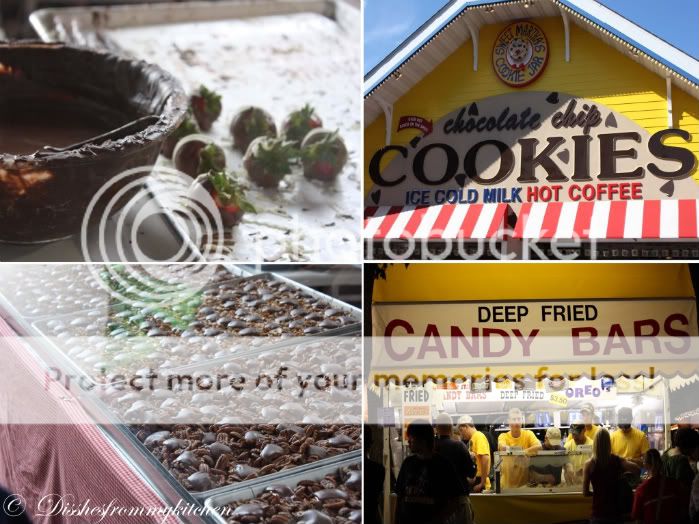 The Name of the shop was ISLAND NOODLES but it was normal

chinese

noodles but should say it was

sooooo

tasty with lots of veggies(no meat,egg) ..so so tasty. It was nice watching the demo.
You will understand how the brownie tasted seeing the pictures itself right .... and I love the pickles but never tasted the fried pickles before..tasted crispy and crunchy.

I love Cheese curds and this was deep fried version..which tasted

too

good, even the outer part was not bland, it was crispy with slight spicy..it tasted awesome. Sure, You all will like it if your cheese lover.


On the whole the MN state fair is full day entertainment where the kids and adults can enjoy. Hope you all enjoyed this

vistual

treat !!!