I know many of us love Rice Kheer right. If so try this twist to the rice kheer which adds more flavor to the usual one. Zesty taste of orange with cranberry makes the rich rice kheer more delicious with wonderful taste. I promise once you try this, you will surely like it...and will be doing it more often.
Zesty Cranberry Rice Dessert
Ingredients :
Milk - 4 cups
Basmathi Rice - 1 tbsp
Condensed milk - 2 1/2 tbsp ( Increase it if you like more sweet)
Dried Cranberry - 1 tbsp
Orange juice - 2 tbsp
Orange zest - 1/2 tbsp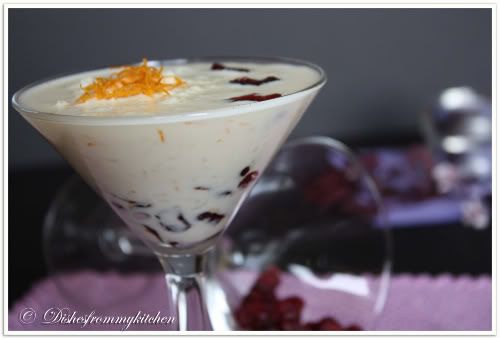 Method :
1. Cook the dried cranberry in the orange juice until all the moisture is absorbed and cranberry gets plumped up.
2. Keep aside.
3. Boil the milk in the heavy vessel by adding washed basmathi rice. Stir once in a while and cook until the quantity reduces by 2 cup.
4. Add the condensed milk and put off the flame.
5. Add the orange zest give it a stir. Add the plumped cranberry and refrigerate for at least an hour.
Serve chilled and enjoy the delicious twisty kheer......by saying Mmmmmmmm ......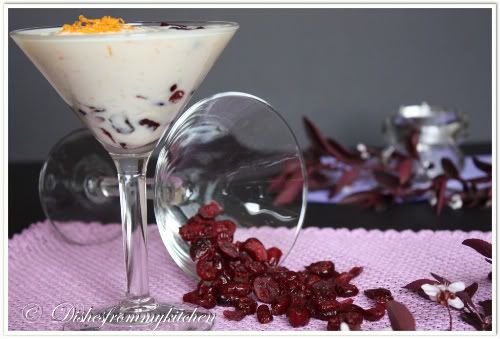 Note:
Adding the amount of orange zest and cranberry is according to your taste.