>> Monday, November 7, 2016 –  breakfast menu, comforting porridge, dhal soup, healthy porridge, Indian porridge, lentil millet soup, lentil soup, little millet, millet porridge, millet soup, Porridge, samai porridge, urad dhal chutney
Samai Arisi Kanji / Little Millet Porridge
Porridge is one of the comfort food for breakfast. Porridge with rice and Mung dhal is very much regular in our house. These days I am substituting the same with Little millet or any other millet. Its so comforting and it tastes so good with roasted urad chutney, pickle or any other spicy condiments. If you want to use rice (sona masoori )use the same recipe just by replacing millet with rice. When using rice in the recipe tempering ingredients is absolutely optional.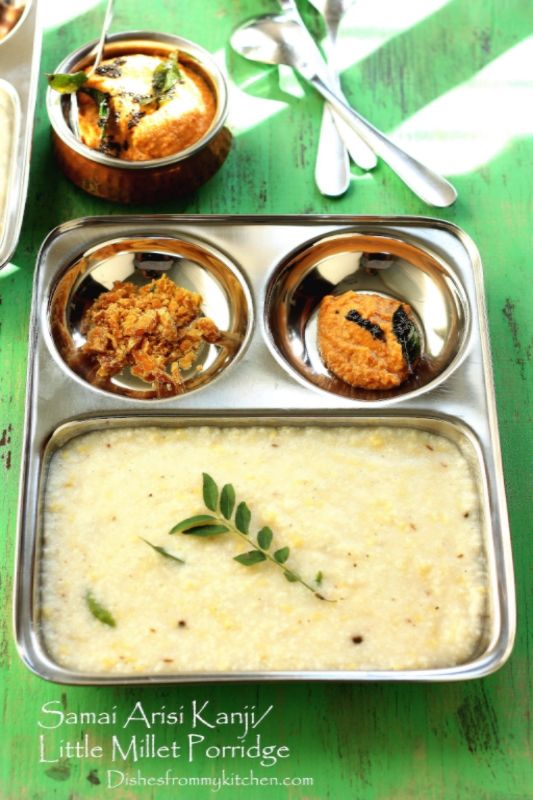 Samai Arisi Kanji / Little Millet Porridge
Serves : 4 to 5
Ingredients :
Samai Arisi/Little Millet - 1 cup
Mung dhal - 1/2 cup
Water - 6 cups + 4 cups(use as needed to get desired consistency)
Milk - 1 cup
Coconut - 1 1/2 tbsp
Tempering :
Ginger - 1/2 inch very finely chopped
Green chilli - 3 slit
Cumin - 3/4 tsp
Whole Pepper - 7
Asafoetida - 1/8 tsp
Curry leaves - 1 sprig
Oil - 1/2 tbsp
Salt as needed
Method :
1. Soak samai arisi/ Millet and mung dhal for half an hour.
2. Add 6 cups of water and pressure cook for 6 whistles.
3. Heat oil in a pan , Coarsely crush cumin and pepper and add to the oil. Once it splutters add Green chillies, finely chopped ginger, Asafoetida and curry leaves. Saute for few minutes. Add coconut and switch of the flame.
4. Once pressure settles, slightly mash the cooked mixture using the ladle.
5. Now add the tempering mixture to the pressure cooked dhal and arisi/Millet.
6. Add Milk and water to get the desired consistency.
7. Let the whole thing come to a boil and switch off the flame.
Serve hot with Chutney/Thuvayal and Jaggery.
Ingredients:
Urad dhal - 1 1/2 tbsp
Coconut - 2 tbsp
Red Chillies - 3 or 4 according to your spice level
Tamarind pulp - 1/2 tbsp
Asafoetida - a pinch
Salt for taste
Mustard - 1/2 tsp
Curry leaves for Tadka.
Method:
1. Heat oil in a pan roast the dhal to golden brown and red chillies.
2. Now grind this with coconut and asafoetida to coarse paste.
3. Season with mustard and curry leaves.
You can serve this with above chappathi, rice roti, normal idli, dosa too.
Disclaimer :
PLEASE DO NOT COPY THIS RECIPE. YOU ARE MOST WELCOME TO USE THIS RECIPE WITH DUE CREDITS.